Today marks the 5th anniversary of Gebran Tueni's murder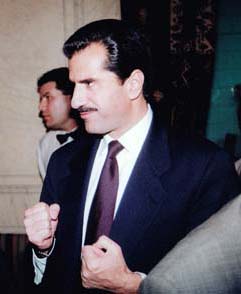 A mass was held on Sunday morning in Saint Georgios Cathedral in the Nejmeh square in downtown Beirut to commemorate the fifth anniversary of MP and journalist Gebran Tueni's assassination, National News Agency (NNA) reported.
Beirut Orthodox Metropolite Bishop Elias Awdeh performed the mass, the report said.
Awdeh said during the commemoration :
Gibran was a believer, a man who loved freedom and did not compromise on any of its principles. He was sincere in what he believed and was deeply convinced he was defending freedom until he was martyred . His sword was the pen, and his weapon was that strong voice. Dialogue was his principle and finding the truth was his obsession.
He added: Gebran loved his country and wanted it to be free, independent and prosperous.
Tueni was murdered on December 12, 2005.