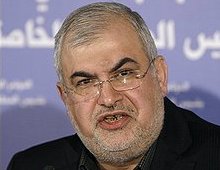 The prosecutor of the U.N.-backed tribunal investigating the 2005 assassination of former Lebanese Prime Minister Rafik Hariri will issue his first indictment very soon, the court's new leader said Thursday.
Special Tribunal for Lebanon (STL) registrar Herman von Hebel gave no details about the content of the indictment, which will remain confidential until it is confirmed by a judge at the Special Tribunal for Lebanon, likely early next year.
Tension over the tribunal has paralyzed Lebanon in recent weeks amid speculation prosecutor Daniel Bellemare will indict members of Hezbollah, the Syrian- and Iranian-backed Shiite militant group that controls a military force that is more powerful than the national army and part of Lebanon's fragile governing coalition.
Hariri, a Sunni Muslim, was Lebanon's most prominent politician in the years after the 1975-1990 civil war. He and 22 other people were killed by a truck bomb on Feb. 14, 2005. At the time, he was trying to limit Syria's influence in Lebanon.
Von Hebel, a Dutchman who has previously worked at tribunals prosecuting crimes in Sierra Leone and the former Yugoslavia, stressed that the Hariri court will indict individuals and not organizations.
"We are talking about individual criminal responsibility, not group responsibility," he told a small group of reporters at the court's headquarters, the day after the United Nations appointed him registrar for a three year term.
He said a pretrial judge will likely take six to 10 weeks to confirm all or parts of the indictment, or reject it if there is insufficient evidence. A trial could begin four to six months after an indictment is confirmed.
The indictment could remain sealed even after it is confirmed, if the court believes that would make arresting suspects easier, Von Hebel said.
The Hariri tribunal, like other international war crimes courts, does not have its own police force to arrest suspects.
Unlike other tribunals, it has the power to try suspects in absentia if they elude arrest.
That will prevent situations like that of former Bosnian Serb army commander Gen. Ratko Mladic, who remains on the run from justice 15 years after being indicted by the U.N. Yugoslavia tribunal for genocide.
The tribunal, based in a former intelligence agency headquarters in a village on the edge of The Hague is gearing up for its busiest year.
In an effort to streamline potentially drawn-out pretrial litigation, the judge confirming the indictment can ask the court's appeals panel to rule on key legal principles underpinning any charges.
"Undoubtedly there are legal issues here," Von Hebel said. "The jurisdiction is partly based on Lebanese law so there may be questions in relation to that. What is the crime of a terrorist attack under Lebanese law, for example. These kind of issues may have an impact."
The U.N. recently approved the court's 2011 budget of $65.7 million (euro50 million), a 20 percent rise from 2010 because of anticipated extra staff needed as the court begins working toward its first trial.
Half of the budget comes from Lebanon's government and Hezbollah has said it may try to block funding, arguing that the court is unconstitutional because Lebanon's Cabinet approved it in 2006 after the resignation of five Shiite ministers. Hezbollah and its allies say the government at the time was no longer legitimate because the constitution requires that "all sects should be justly represented in the Cabinet."
Von Hebel said that Lebanon failing to pay its half of the budget "would be a serious challenge."
The court, which employs 333 staff from 62 different countries, has a courtroom built in a former gymnasium at the court's headquarters and 12 cells ready in a special wing of a Dutch jail that also has wings for suspects detained by the International Criminal Court and Yugoslav war crimes tribunal.
Von Hebel said officials meet regularly with Dutch counter terrorism authorities to discuss security.
And while the court is focused for now on its first indictment, Von Hebel said more would be filed in the future.
Under the court's statute, the prosecutor also can investigate cases connected to the Hariri assassination since Oct. 1, 2004. WP