Assad meets Sarkozy to discuss Lebanon, ME peace- update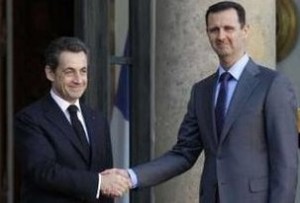 Syrian President Bashar al-Assad is meeting his French counterpart Nicolas Sarkozy in Paris today to discuss issues including the stalled Middle East peace process.
Sarkozy and Assad will discuss efforts to push the Israeli- Palestinian negotiations forward, and ways to ensure stability in Lebanon, the state-run Syrian Arab News Agency news agency reported citing Eric Chevallier, the French ambassador to Syria.
The U.S.-brokered peace talks have foundered over Israeli settlement building on the West Bank, which Palestinians say must be frozen before talks can resume.
In Lebanon, tensions have risen over a United Nations probe into the 2005 assassination of former premier Rafiq Hariri, on anticipation that members of the Shiite Muslim Hezbollah group may be indicted. The movement, backed by Syria, is a partner in Prime Minister Saad Hariri's national unity government.
Jacques Chirac, Sarkozy's predecessor, cut diplomatic ties with Syria after the Rafiq Hariri assassination. Syria was implicated by an initial UN investigation, a charge the country denies.
Relations have improved under Sarkozy, who visited Damascus in 2008 and 2009. Syria signed a series of agreements with France in February. France Telecom SA is one of five companies that Syria picked last month as potential buyers of a third mobile phone license.
France, which administered Syria under a League of Nations mandate after the First World War, wants to be the top investor in Syria and is ready to participate in large projects in the Arab country, Chevallier told the Syrian news agency. Bloomberg
Update: Assad: No one wants a strife in Lebanon
Assad said Thursday following hislunchtime talks with Sarkozy that no one wants civil strife in Lebanon, amid tensions ahead of the Special Tribunal for Lebanon (STL) indictment over the 2005 assassination of former Prime Minister Rafik Hariri.
"No one wants there to be clashes, fitna [strife within the Muslim community], between Lebanese," Assad said
The lunchtime talks reportedly centered on Lebanon.
Asked about an eventual Syrian-Saudi initiative in Lebanon, Assad said that "the solution can only be Lebanese, it can be neither Syrian, nor Saudi, nor French."
"We Syrians don't want to intervene, we don't want to interfere in an internal Lebanese situation," Assad said.