Wikileaks: Hezbollah has military presence in Syria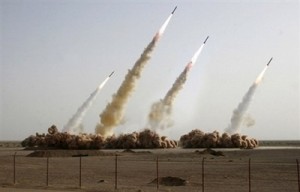 Hezbollah has military facilities in Syria that may come under Israeli attack if another war erupts between Israel and the Lebanese Shi'ite movement, the U.S. embassy in Damascus said in a cable published by Wikileaks.
The cable said increased Syrian support for Hezbollah, including longer-range rockets and guided missiles, "could change the military balance and produce a scenario significantly more destructive" than the 2006 war between Hezbollah and Israel.
While the United States has publicly criticised Syria for supplying Hezbollah with what it describes as more sophisticated weapons, the cable showed that Washington believes Hezbollah, which is also backed by Iran, has a military presence in Syria.
"If rockets were to rain down on Israeli civilians in Tel Aviv, Israel would still have powerful incentives, as it did in 2006, to keep Syria out of the conflict," said the cable, written by Charge d'Affaires Charles Hunter in November 2009.
"But it might also face compelling reasons for targeting Hezbollah facilities in Syria, some of which are in and around populated areas," the cable said.
Israel refrained from widening the 2006 war by hitting Syria, which has kept the occupied Golan Heights front between the two countries quiet since 1974, although Israeli officials said then that Syria was supplying Hezbollah with missiles that were fired in their thousands on Israel during the 34-day war.
"Syrian leaders also appear convinced that arming Hezbollah will increase Syria's leverage in bringing Israel to the negotiating table," the cable said.
It said Syria's military had attempted after 2006 to incorporate guerrilla warfare techniques used by Hezbollah, and this meant "that Hezbollah operatives and facilities enjoy a growing footprint in Syria".
It recommended raising the Hezbollah weapons supply issue in one-on-one meetings with President Bashar al-Assad, which was done by U.S. Under Secretary William Burns in February this year and during subsequent meetings between Assad and U.S. officials.
U.S. WARNING
Prompted by an apparent Syrian refusal to stop the suspected arms flow and by a war of words between Syria and Israel, U.S. Secretary of State Hillary Clinton instructed the embassy to convey a message addressed to Assad.
Hunter delivered the message, known as a demarche in diplomatic language, to Deputy Foreign Minister Fayssal al-Mekdad on Feb. 25, 2010, the same day Iranian President Mahmoud Ahmadinejad met Assad in Damascus.
The two leaders dismissed calls by Clinton to loosen the decades-long alliance between Syria and Iran.
Wikileaks published the text of the demarche and a cable by the embassy describing the meeting with Mekdad, during which Mekdad repeated Syrian denials of having supplied Hezbollah.
"Your interest in avoiding war should require you to exert maximum restraint, including restraining Hezbollah and preventing the group's acquisition of such lethal long-range weapons," the demarche said.
"…From our perspective, your operational support for Hezbollah is a strategic miscalculation that is damaging your long-term national interests."
Hezbollah fired thousands of rockets on Israel during the 2006 war, which helped the group survive an Israeli onslaught into south Lebanon.
A U.S. Defense Department official told the New York Times that Hezbollah now has 50,000 rockets and missiles, including 40-50 missiles that can reach Tel Aviv, and 10 Scud missiles.
Syria has supported Hezbollah since the Shi'ite movement was founded in the 1980s during Israel's 22-year occupation of south Lebanon. Syria lost all four wars it has fought with Israel.
The diplomatic cable said Syria's ruling hierarchy appears to assume that Damascus could stay out of another war between Hezbollah and Israel "based largely on its 2006 experience".