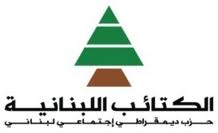 Following its Tuesday meeting, the Phalange Party said in a statement that it rejects any political compromise that might be made at the expense of justice, a reference to the Special Tribunal for Lebanon (STL).
"Confronting the STL indictment is like a challenging the international community," the statement said.
"Those who believe that obstructing the indictment would be successful by facing the March 14 coalition are wrong."
The Phalange Party also commended Jordan King Abdullah II's support for Lebanon during his meeting with the Party leader former Lebanese president Amin Gemayel in Amman on Monday.
The party also reported that it elected Michel Khoury as the secretary general of the party and Abdullah Richa as his deputy