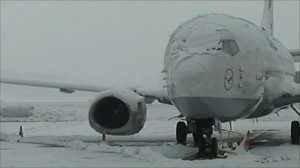 Heavy snowfall has caused disruption across northern Europe, closing airports and bringing traffic to a standstill.
In Poland, eight homeless people died as temperatures fell below -20C (-4F).
Airports were closed in the UK, France and Switzerland. Dozens of flights were affected in Germany and Spain.
Prominent figures including Spanish Prime Minister Jose Luis Rodriguez Zapatero faced delays as they headed to Zurich for the Fifa World Cup vote.
In the Russian capital, Moscow, temperatures dropped to -23.6C (-10.5F), the lowest on record for 1 December since 1931.
In Poland it was even colder, with the eastern city of Bialystok registering temperatures of -26C (-14.8F).
Police in the country appealed to the public to get in touch if they found any homeless people living outdoors after eight homeless men were found frozen to death.
Winter warnings
In Britain, thousands of schools were closed and police in the southern county of Surrey described conditions as the worst they had ever seen.
The Met Office has issued heavy snow warnings for much of the eastern side of Britain and some central areas.
Passengers faced delays of up to an hour on Eurostar services linking London with Paris and Brussels.
One of Britain's busiest airports, Gatwick, was closed, as was Edinburgh airport. Geneva airport in Switzerland and Lyon-Bron airport in southern France were also closed as staff struggled to clear runways of snow.
There were severe flight delays reported in Frankfurt, Munich, Vienna and Prague.
In France, 12 regions in the frozen east and centre banned the use of lorries, forcing more than 7,000 of them to park overnight.
Thick snow across Germany blocked roads, and caused flight cancellations and school closures. Bild newspaper said it was the coldest start to December for centuries, with some areas reporting temperatures as low as -18C (-0.4F).
Increased demand for gas and electricity saw a rise in prices on Europe's energy markets.
"It's insane, there's a lot of panic," one gas market participant was quoted as telling Reuters news agency. "If we have the smallest supply issue it's going to be worrisome."
In northern Italy, where heavy rains have caused severe flooding in some areas this week, the Civil Protection Authority warned more downpours were expected.
Rome's Tiber river came close to overflowing in parts after water levels rose by more than a metre in one day.
In Albania, meanwhile, a state of emergency was declared due to widespread flooding along the Drini River delta north-west of the capital, Tirana.
While the north of the continent shivered, though, it was a different picture in parts of southern Europe, with Cyprus enjoying an unseasonably warm start to December and clocking temperatures close to 30C (86F).