Allouch: No point in a Hariri-Nasrallah meeting now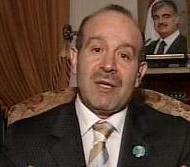 Future Movement official Mustafa Allouch told Akhbar al-Yawm news agency on Wednesday that a meeting between Prime Minister Saad Hariri and Hezbollah Secretary General Sayyed Hassan Nasrallah will not take place anytime soon.
"If there are any benefits from such a meeting, then it will happen, but given the current conditions , I don't believe there is a point in it taking place," he stated.
Asked whether Hariri's trip to Iran will restore contacts between him and Hezboullah Secretary General Sayyed Hassan Nasrallah, he said: "The Iranians advised Hariri to resume contacts with Nasrallah , but there are clear and major differences between Hariri and Nasrallah's positions over the Special Tribunal for Lebanon (STL) ."
Responding to Hezbollah Deputy Secretary General Sheikh Naim Qassem's call on Hariri to stop the "farce" of the STL, Allouch said that "it is not Hariri that is accusing Hezbollah."
Qassem told an Arab-language newspaper Wednesday it was looking to Prime Minister Saad Hariri to stop the "farce of accusation" against his movement.
"We are not asking for a statement from Hariri, but for action," Hezbollah's al-Manar quoted him as saying.
Qassem also said yesterday that a meeting between Hariri and Nasrallah could take place "when appropriate, beneficial and essential topics of discussion are found." "Afterward it will only take a phone call or a couple of hours to set up a meeting," he said.
"The farce is that there is a premature defense before the [STL's] indictment is issued. The important thing is that if the indictment accuses anyone based on firm evidence, regardless of political affiliation, Sheikh Qassem and others must accept it." Allouch said
Syrian-Saudi efforts toward a compromise have made progress but there is still a wide gap between "those who want to deal logically with the tribunal and those who want to abolish it completely," he said.
"I do not think that Saudi-Syrian efforts will be successful in resolving the crisis ." He said
Asked about President Michel Suleiman's meetings today with a number of political leaders , Alloush said: "The president is trying, but each one of these leaders is committed to a agenda that is not in line with Suleiman's objectives."
"The president has no solutions for a consensus on the STL and therefore, his efforts are appreciated, but they may not reach a concrete result," he added.