US: Lebanon government increasingly subordinate to Iran, Syria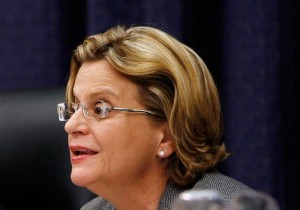 U.S. Representative Ileana Ros-Lehtinen, the ranking Republican on the House Foreign Affairs Committee, told UN special envoy Terje Roed-Larsen on Tuesday that Lebanon's government is increasingly "subordinate" to Iran and Syria, who have been helping Hezbollah rearm.
She reportedly told the diplomat that she was "concerned" that US and UN efforts in Lebanon were failing to counter Hezbollah's growing power.
"Hezbollah, with the help of Iran and Syria, is massively rearming, the Lebanese government is becoming more and more subordinate to Iran and Syria, and the line between the Lebanese Armed Forces and Hezbollah is gradually being erased," she said in a statement summarizing their meeting.
"We need to have a clear vision of what the end-state is and how we can achieve it.
Ros-Lehtinen was one of the lawmakers that supported the placing on hold of the 100 million dollars in aid to Lebanon's military back in August . The ban was lifted recently.
"Above all, we must uphold Lebanon's sovereignty, and ensure that those responsible for (late) prime minister (Rafk) Hariri's murder are held responsible," the Florida lawmaker added.
Roed-Larsen has been overseeing UN Security Council Resolution 1559 that calls for "the disbanding and disarmament" of all militias in Lebanon.
Tension escalated in Lebanon following reports that the Special Tribunal for Lebanon will soon issue its indictment into the 2005 assassination of Lebanon's former Prime Minister Rafik Hariri. Last July, the Hezbollah chief Sayyed Hassan Nasrallah said that the tribunal is "an Israeli project" that will indict Hezbollah members. Nasrallah accused Israel of being behind Hariri's assassination but refused to provide the evidence to STL to support his claim. Hezbollah and its March 8 allies have been calling for the abolition of STL.
Some leaders are concerned that should the court indict Hezbollah members, it could lead to a Shiite-Sunni strife, others aren't as worried and see this as a desperate attempt by Hezbollah to intimidate and scare the Lebanese and specially PM Saad Hariri .
The Pro Syrian Al Akhbar newspaper reported earlier in the month that Hezbollah has prepared a plan to take over Lebanon when STL issues its indictment for the 2005 murder of former Prime Minister Rafik Hariri.
Free Patriotic Movement leader MP Michel Aoun , (a close ally of Hezbollah ) said on November 18 that Hezbollah might violently respond to an STL indictment that accuses Hezbollah party's members in Hariri's assassination.
Aoun on Tuesday called for a compromise before STL issues its indictment .
" We hope that a compromise will happen, since no one wants a clash. But is there a wish for compromise ? If this wish is found, then is there ability , especially since there is an international game and it appears that they cannot separate themselves from it".
Similarly Hezbollah's second in command , Sheikh Naim Qassem warned on Tuesday that time is running out for a solution to the STL indictment . "The post-indictment phase is completely different from the pre-indictment phase," Qassem warned during an interview with the Lebanese newspaper Al-Balad. "All options are conceivable."