Hezbollah warns: All options are conceivable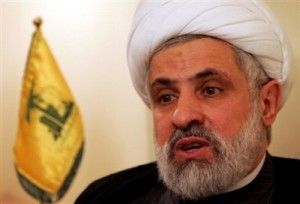 Sheikh Naeem Qassem, Deputy Hezbollah's leader Sayyed Hasan Nasrallah said that Lebanon has started a race against the clock for a settlement to be reached before the release of an indictment into the assassination of former Lebanese Prime Minister Rafik Hariri.
"The post-indictment phase is completely different from the pre-indictment phase," Qassem warned during an interview with the Lebanese newspaper Al-Balad. "All options are conceivable."
Qassem said the STL indictment would be issued "very soon" and he hoped that mediation efforts led by Saudi Arabia and Syria would "materialize in the near future."
"If we don't take advantage of the opportunities currently made available to us we will face a new scenario," he added, without elaborating.
Qassem said Hariri's son, Prime Minister Saad Hariri has a special responsibility in this regards and knows what is required of him to put an end to accusations against Hezbollah. "Hezbollah is not asking Prime Minister Hariri to talk about this issue but to taken action with the concerned parties "
Qassem said a meeting between Hariri and Nasrallah could take place "when appropriate, beneficial and essential topics of discussion are found."
"Afterward it will only take a phone call or a couple of hours to set up a meeting," he said.
Asked to comment about Hariri's visit to Iran he said: "We will know if this will reflect positively on the Lebanese situation if a solution is found for the current impasse . In reference to a compromise solution before the STL indictment is issued .
Saudi Ambassador to Lebanon Ali Awadh Assiri denied last Friday the reports claiming that the Syrian-Saudi efforts aimed at defusing tensions in Lebanon have reached a dead end .
"Contacts, although unofficial, are still ongoing through all means," Assiri stressed in an interview with NBN television.
Assiri said that the priorities of Saudi King Abdullah are "Lebanon's security and stability."
"The situation is heading towards a major breakthrough and we will see the Lebanese closing ranks," the Saudi envoy reassured everyone that the solution must be Lebanese.
"Lebanese officials themselves must take steps towards fending off civil strife, which only the enemy of Lebanon (Israel) hopes to see happening," the Saudi diplomat added.
Tension escalated in Lebanon following reports that the Special Tribunal for Lebanon will soon issue its indictment into the 2005 assassination of Lebanon's former Prime Minister Rafik Hariri. Last July, the Hezbollah chief Sayyed Hassan Nasrallah said that the tribunal is "an Israeli project" that will indict Hezbollah members. Nasrallah accused Israel of being behind Hariri's assassination but refused to provide the evidence to STL to support his claim. Hezbollah and its March 8 allies have been calling for the abolition of STL.
Some leaders are concerned that should the court indict Hezbollah members, it could lead to a Shiite-Sunni strife, others aren't as worried and see this as a desperate attempt by Hezbollah to intimidate and scare the Lebanese and specially PM Saad Hariri .
The Pro Syrian Al Akhbar newspaper reported earlier in the month that Hezbollah has prepared a plan to take over Lebanon when STL issues its indictment for the 2005 murder of former Prime Minister Rafik Hariri.
Free Patriotic Movement leader MP Michel Aoun , (a close ally of Hezbollah ) said on November 18 that Hezbollah might violently respond to an STL indictment that accuses Hezbollah party's members in Hariri's assassination.
Aoun today called for a compromise before STL issues its indictment .
" We hope that a compromise will happen, since no one wants a clash. But is there a wish for compromise ? If this wish is found, then is there ability , especially since there is an international game and it appears that they cannot separate themselves from it".