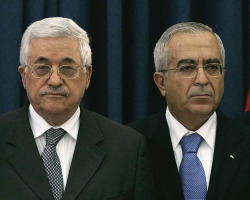 Palestinian president Mahmud Abbas said on Tuesday that the Palestinians will explore various options to gain international recognition if US efforts to advance peace talks with Israel fail.
"We will spare no effort in pursuing this process and we have no choice but the choice of peace, we will continue with the peace process and we hope that US efforts will succeed," Abbas said at a news conference with German President Christian Wulff.
"And even if they don't succeed, we will go to other options within the framework of peace and international legitimacy, to arrive at the establishment of an independent Palestinian state," he said.
The Palestinian leadership has said repeatedly in recent weeks that it is considering a range of alternatives, including seeking United Nations recognition for an independent declaration of statehood, if peace talks do not resume.
Direct talks that began in September stalled shortly after they started when an Israeli moratorium on settlement construction in the West Bank expired.
The Palestinians have said they will not return to the talks unless the construction ban is renewed, but Israel has so far refused to reimpose the ban.
The United States has been working on a letter of agreement that would offer Israel over $3 billion in military aid in exchange for a 90 day settlement construction freeze , but no final agreement has been reached
Abbas, speaking after meeting with Wulff, challenged Israeli PM Bejamin Netanyahu to show his commitment to the peace process.
"If Benjamin Netanyahu said we don't want peace, he should try us," Abbas said. "We extend our hand to him and we extended our hands to Shimon Peres and the late Yitzhak Rabin."
Abbas rejected the suggestion that an interim agreement setting up temporary borders for a future Palestinian state could advance the peace process.
"There is no reason why a solution cannot be implemented over a year or two, but we do not want a temporary Palestinian state," he said.
Palestinians ready for statehood
In a related development Palestinian Prime Minister Salam Fayyad said in an interview Tuesday that the Palestinians will be ready for statehood by August, as promised in a two-year action plan , dismissing a host of steep obstacles to independence.
The former World Bank economist visited rural West Bank road destroyed by Israel to demonstrate his belief that independence is inevitable as long as Palestinians don't lose faith.
Fayyad said his government has made good progress on the two-year plan. "It could happen tomorrow, it could happen next month, but certainly no later than August of next year," he said.
Fayyad said the split and Hamas' insistence on trappings of power in Gaza were misguided.
"Do I really feel a sense of sovereignty? No. Nor should anyone," he said. "So long as there is (Israeli) occupation, the state of occupation still exists in the West Bank and Gaza, what is all the fuss about? Let's gain real sovereignty and then we'll talk about it."
Fayyad's Palestinian Authority operates with limited autonomy in 40 percent of the West Bank, where most of the territory's 2.3 million Palestinians live. Another 60 percent, home to more than 120 Israeli settlements, remains under full Israeli control.
In August 2009, Fayyad presented a two-year plan for building state institutions, including schools, courts and infrastructure. The idea was to generate momentum for independence regardless of crisis-prone Israeli-Palestinian peace talks.
With his plan in its final phase, Fayyad said it's time to challenge Israel's exclusive control over vast tracts of the West Bank.
Fayyad said his next big project is a $400 million international airport near the West Bank town of Jericho. He acknowledged that he does not have funding yet, but said he wants to put facts on the ground.
AFP , Washington Post