Siniora: Dialogue is the only solution to disagreements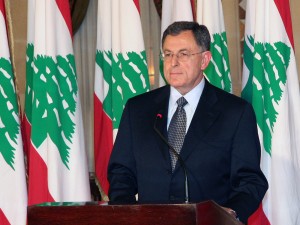 Former Lebanese Prime Minister MP Fouad Siniora said during a lecture at Kings College in London on Monday that an explosion of the Lebanese situation will spread to the entire Middle East.
Siniora delivered the lecture at Edmond J. Safra Lecture Theatre of King's College . The title of the lecture was : Lebanon & the Middle East in a World in Transition.
When asked about considering Hezbollah as a rival to other political parties, Siniora said that "Israel is the enemy, and Hezbollah represents a large faction of people and has played a primary role in liberating occupied territories."
Siniora also said "We differ with Hezbollah on certain issues and agree with it on other issues, but dialogue is the only solution to our disagreements.
In his lecture Siniora "analyzed how important it is to achieve peace in the Middle East through a just and lasting settlement for the Palestinian struggle, and preserve Lebanon as a model through fostering democracy, achieving justice, and preserving diversity. And how these objectives are crucial not just for the sake of the Arab and Muslim world, but also for the world at large which is going through a major transition."
Siniora spoken about his vision of Lebanon in a region in transition, reflecting on the major events of his premiership: the 2006 war, the setting up of the Special Tribunal for Lebanon (STL) , the Nahr el Bared war, Lebanon's relations with Syria and efforts to stabilize its power-sharing system.
Responding to a question about the Tribunal and the issue of false witnesses he said :
"The STL is the only party entitled to uncover the truth and determine the identity of the so-called 'false witnesses' and put them on trial if they prove to be guilty after the indictment is issued."
Tension escalated in Lebanon following reports that the Special Tribunal for Lebanon will soon issue its indictment into the 2005 assassination of Lebanon's former Prime Minister Rafik Hariri. Last July, the Hezbollah chief Sayyed Hassan Nasrallah said that the tribunal is "an Israeli project" that will indict Hezbollah members. Nasrallah accused Israel of being behind Hariri's assassination but refused to provide the evidence to STL to support his claim. Hezbollah and its March 8 allies have been calling for the abolition of STL.
The Pro Syrian Al Akhbar newspaper reported earlier in the month that Hezbollah has prepared a plan to take over Lebanon when STL issues its indictment for the 2005 murder of former Prime Minister Rafik Hariri.
During his official visit to France , Prime Minister Saad Hariri on Tuesday also emphasized the importance of dialogue to resolving political tensions in Lebanon .