Abdullah Azzam Brigades: Sunnis should reject Hezbollah's dominance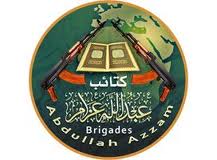 Abdullah Azzam Brigades on Thursday called on Sunnis in Lebanon to reject Hezbollah's dominance and to boycott the institutions dominated by it
In a letter from the group's field commander Saleh bin Abdullah al-Qaraawi published on the internet he urged "Sunnis in the Levant to take back their rights by force."
He also urged them not to "cooperate with the Lebanese army intelligence and not to stop at their checkpoints…plenty of them in your areas ." He also asked why is the Lebanese army intelligence only targeting the Sunnis in Lebanon and why there is not one army checkpoint in all the Shiite areas of Dhahiya and south lebanon.
Qaraawi accused Lebanon's Shiites of controlling the Lebanese army intelligence which "didn't defend Sunnis" during the May 7 clashes.
Qaraawi accused Hezbollah of acquiring weapons for use in internal conflicts for "slaughtering Sunnis ," adding they are using the International Tribunal just as an excuse.
Tension escalated in Lebanon following reports that the Special Tribunal for Lebanon will soon issue its indictment into the 2005 assassination of Lebanon's former Prime Minister Rafik Hariri. Last July, the Hezbollah chief Sayyed Hassan Nasrallah said that the tribunal is "an Israeli project" that will indict Hezbollah members. Nasrallah accused Israel of being behind Hariri's assassination but refused to provide the evidence to STL to support his claim. Hezbollah and its March 8 allies have been calling for the abolition of STL.
Some leaders are concerned that should the court indict Hezbollah members, it could lead to a Shiite-Sunni strife, others aren't as worried and see this as a desperate attempt by Hezbollah to intimidate and scare the Lebanese and specially PM Saad Hariri .
The Pro Syrian Al Akhbar newspaper reported earlier in the month that Hezbollah has prepared a plan to take over Lebanon when STL issues its indictment for the 2005 murder of former Prime Minister Rafik Hariri.
Free Patriotic Movement leader MP Michel Aoun , (a close ally of Hezbollah ) said on November 18 that Hezbollah might violently respond to an STL indictment that accuses Hezbollah party's members in Hariri's assassination.
Aoun on Tuesday called for a compromise before STL issues its indictment .
" We hope that a compromise will happen, since no one wants a clash. But is there a wish for compromise ? If this wish is found, then is there ability , especially since there is an international game and it appears that they cannot separate themselves from it".