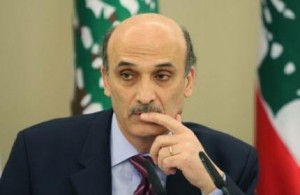 Lebanese Forces leader Samir Geagea said on Wednesday that the period after the Special Tribunal for Lebanon (STL) issues its indictment will be better than the period before because there will be documents that can be counted on for discussions, according to a statement issued by his press office.
Geagea was responding to the statement that was made yesterday by Sheikh Naeem Qassem, Deputy Hezbollah's leader Sayyed Hasan Nasrallah who said : "The post-indictment phase is completely different from the pre-indictment phase."
Commenting on asrallah's Sunday statement that evidence based on the telecommunications sector is worthless, Geagea said, "This is a technical issue. It is known that there is infiltration in the telecom sector… this is not new."
"Ninety-nine percent of this infiltration was present before 2005, why did they not discover it then?" he asked, adding that verifying the infiltration should be left to technical experts.
Foreign countries can support Lebanon, but they cannot interfere in the STL, which March 14 and March 8 are divided about, Geagea said.
"It is a shame that the Lebanese people see their leaders wait for foreign attempts to resolve a domestic [issue]," the LF leader also said, adding however that foreign concerns are respected.
Geagea is referring to the Saudi Syrian attempts to resolve the crisis over STL indictment
Geagea said that the only solution lies in committing to civil peace and state institutions.
The LF leader also criticized releasing radical Islamic preacher Omar Bakri, describing the move as a scandal.
Bakri was found guilty, along with more than 40 other Lebanese, Palestinians, Syrians and Saudis, of "incitement to murder, theft and the possession of arms and explosives. " Bakri was arrested on November 15 in Tripoli and released on bail on November 24 after hiring Hezbollah MP Nawwar al-Sahili as an attorney.