MP Zahra: March 14 won't surrender to Hezbollah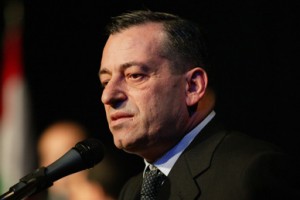 Lebanese Forces bloc MP Antoine Zahra , a key member of the March 14 alliance told LBC TV on Tuesday: "Hezbollah wants the March 14 coalition to surrender, but this won't happen ."
Zahra said that "Hezbollah's primary goals are have been achieved … starting with   obstructing the Lebanese cabinet ….."
Zahra said that March 8's primary aim is to obstruct the Special Tribunal for Lebanon (STL).
"As they know they cannot halt the tribunal's probe, their goal is to take Lebanon as a hostage," Zahra said, in a reference to Hezbollah and the March 8 parties.
Tension escalated in Lebanon following reports that the Special Tribunal for Lebanon will soon issue its indictment into the 2005 assassination of Lebanon's former Prime Minister Rafik Hariri. Last July, the Hezbollah chief Sayyed Hassan Nasrallah said that the tribunal is "an Israeli project" that will indict Hezbollah members. Nasrallah accused Israel of being behind Hariri's assassination but refused to provide the evidence to STL to support his claim. Hezbollah and its March 8 allies have been calling for the abolition of STL.
Some leaders are concerned that should the court indict Hezbollah members, it could lead to a Shiite-Sunni strife.
The Pro Syrian Al Akhbar newspaper reported earlier in the month that Hezbollah has prepared a plan to take over Lebanon when STL issues its indictment for the 2005 murder of former Prime Minister Rafik Hariri.
Free Patriotic Movement leader MP Michel Aoun , (a close ally of Hezbollah ) said on November 18 that Hezbollah might violently respond to an STL indictment that accuses Hezbollah party's members in Hariri's assassination.