Hariri meets Ahmadinejad in Tehran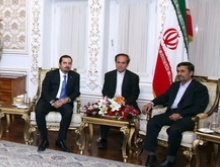 Lebanese Prime Minister Saad Hariri met Iranian President Mahmoud Ahmadinejad on Sunday evening and discussed the latest regional developments as well as bilateral relations and means to improve them, according to a statement issued by the PM's press office.
Earlier today Hariri met with Iran's defense minister who said that Iran was ready to cover Lebanon's defense needs and also that of the militant Hezbollah group , the ISNA news agency reported.
"Iran has constantly said that it would be beside the Lebanese army and resistance (Hezbollah) and ready to cover the country's defense needs," Ahmad Vahidi said at a military fair in Tehran.
The PM will meet with Iran's supreme leader Ayatollah Ali Khamenei on Monday morning, the statement added.
The statement also reported that Ahmadinejad held a dinner in honor of Hariri and the accompanying delegation – who arrived in Iran on Saturday for a three-day official visit.