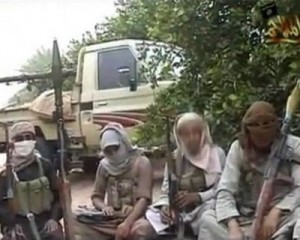 AL-QAEDA'S regional wing has claimed responsibility for a car bombing that killed at least 23 Shiites in northern Yemen and threatened more attacks, according to a statement posted on the Internet on Sunday.
'The mujahideen … decided to begin with this martyrdom-seeking operation in defence of the honour of our Prophet Mohammad … and in defence of our Sunni brothers,' Al-Qaeda in the Arabian Peninsula said in the statement posted on Islamic websites.
The blast on Nov 24 ripped through a religious gathering of supporters of Shiite rebels in the northern Jawf province.
The Al-Qaeda statement, dated Nov 25, said the group had formed special units to attack the Shiite rebels, whom it accused of killing Sunnis, destroying their homes and forcing them out of areas under rebel control.
Another suicide car bombing on a rebel convoy killed at least two people on Friday, Nov 26, in the north.
The rebels, known as Houthis after the name of their leaders' clan, belong to the Zaidi sect of Shiite Islam. They complain of social, religious and economic discrimination and have long fought the Yemeni government. REUTERS