Cargo plane crashed in Pakistan, killing 8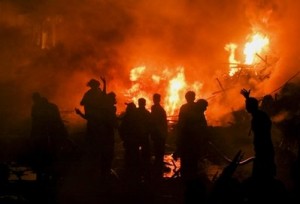 A cargo plane crashed into a housing complex in Pakistan's largest city soon after takeoff Sunday, setting off a huge blaze and killing all eight Russian crew on board, the civil aviation authority said
At least one person on the ground was injured. Around 20 houses were damaged or destroyed, though most were under construction and believed to be unoccupied, locals said.
The Russian-made plane came down in an upscale neighborhood of Karachi around 1:50 a.m., when many people on the ground were asleep. One of the plane's engines was on fire when it flew overhead, several witnesses said.
"I saw one of its wings was burning and there was a blast and the fire engulfed the aircraft very quickly," said Riaz Ahmed.
The Sudan-bound plane exploded into flames. Fire trucks sprayed foam onto the crash site.
As the flames died down, rescuers began searching through the destroyed buildings, looking for bodies or survivors.
Hundreds of people came to see the spectacle and film it with their cell phones, hampering access for emergency workers.
Locals said the plane missed densely populated apartment blocks by several hundred yards (meters).
Some of the buildings damaged and razed in the upscale neighborhood of Karachi were under construction and unoccupied, they said. The housing complex was reserved mostly for Naval officers and their families.
Aviation authority spokesman Pervais George said the plane was heading to Sudan when it came down two minutes after take off. He said the eight crew, all Russians, were dead.
Local doctor Abdul Razak said one person was being treated at a hospital with severe burns.
George said the plane was an Il-89, a multipurpose cargo plane that is often used for ferrying humanitarian aid to developing countries, as well as other large items.
The crash was the third in less than five months in Pakistan.
Earlier this month in Karachi, 21 people were killed when a small passenger plane crashed soon after take off.
In July, a passenger jet operated by Pakistan carrier Airblue crashed into hills overlooking the capital, Islamabad, during stormy weather, killing all 152 onboard.