Israeli profiling airport security system targets Arabs, Muslims
Donna Shalala, a Lebanese American who was President Bill Clinton's secretary of health and human services was detained and questioned for 21/2 hours at Ben Gurion airport in July.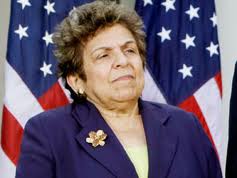 Israel has long held the reputation as home to the world's most stringent airport security procedures. But most passengers aren't frisked, there are no intimately revealing body-imaging scanners, and security experts dismiss as misguided the new, more intrusive American approach that requires pat-downs or highly detailed scans of every passenger.
"Taking the bottle of water from the 87-year-old woman at JFK, you will never find an explosive material that is coming from bin Laden," said Shlomo Harnoy, head of the Sdema Group, an Israeli security consultancy that advises airports abroad. "You are concentrating on the wrong thing."
Israel's approach allows most travelers to pass through airport security with relative ease. But Israeli personnel do single out small numbers of passengers for extensive searches and screening, based on profiling methods that have so far been rejected in the United States, subjecting Arabs and, in some cases, other foreign nationals to an extensive screening that comes with a steep civil liberties price.
"I know personally of people who came to Israel for a conference and were asked if they had met an Arab. After that, they were stripped and their laptop was confiscated," said Ariel Merari, a terrorism expert at Tel Aviv University who has researched aviation security. "There is a lot to be improved in this approach towards innocent, foreign citizens. Also, the attitude towards Israeli Arabs has to be reevaluated.
"The profiling system is good," Merari said. "But it has to be done with more sensitivity."
Pini Shif, a founder of the security division at Ben Gurion International Airport outside Tel Aviv, estimates that about 2 percent of passengers flying from the airport are subject to the more intensive screening. For the others, the air-travel experience can be a delight, compared with flying in the United States.
"The security here is far more professional," said Sandy Kornhauser, who arrived with her daughter at Ben Gurion from Philadelphia on Wednesday to attend a wedding.
"I think they know who they are looking for," she added. "In the States, they don't know."
Israeli airport security authorities don't disclose the methods by which they single out passengers for extra scrutiny. They say only that they have a list of suspicious signs that they look for.
Sometimes a Muslim-sounding name is enough. Donna Shalala, a 69-year-old American of Lebanese descent who was President Bill Clinton's secretary of health and human services and is now president of the University of Miami, was detained and questioned for 21/2 hours at Ben Gurion in July. The Israeli news media said she was subject to a humiliating security debriefing because of her Arab last name.
In another incident that made headlines here this fall, Heather Bradshaw, an Indiana University professor, was subjected to a body search and forced to turn over her bra to authorities as she tried to board an El Al flight from Britain's London Luton Airport to Tel Aviv to attend an academic conference. All her belongings except her passport and credit cards were taken from her before she was allowed to board. She got them back three days later, after friends in Israel intervened.
Israeli Arabs, who make up about one-fifth of Israel's population, are regularly subjected to a more intensive questioning that goes beyond the routine queries, such as "Where did you just arrive from?" and "Who packed your bags?" They also are subjected to body and bag searches more frequently than Jewish passengers.
"They began with my hair, even though it is only two centimeters long. They began feeling through it, then examining behind my ears, the neck, the shoulders. They began feeling me under my bra, and then continued on to my tummy. I felt as though I was under a sexual assault," Hunaida Ghanem, an Israeli Arab resident of Jerusalem who has a PhD from Hebrew University in sociology and a postdoctoral degree from Harvard, said as she recalled an incident at the airport in June 2009.
*
"I have been through searches in the U.S. But what they did here was very different. It was very humiliating," she added.
Since then, Ghanem has declined six invitations to attend conferences abroad, saying she finds it emotionally difficult to go to the airport.
Israeli civil rights organizations have repeatedly appealed to Israel's High Court of Justice to end the alleged discrimination against Israel's Arab citizens. The court is scheduled to hear another appeal Dec. 22.
"If you are a Jew, you can celebrate your journey. You can go to the duty-free," said Amnon Be'eri, co-executive director of the Abraham Fund, an organization that works to advance coexistence between Israeli Jews and Israeli Arabs. "If you are an Arab, you are discriminated against, separated, humiliated."
Be'eri says he believes that in addition to violating basic equal rights, Israel is feeding a longer-term security problem by "creating generations of citizens who feel alienated from the state."
However uncomfortable the procedures are for some, Israeli security experts insist that Israel's methods are better at preventing terrorist attacks than the U.S. Transportation Security Administration's reliance on technology or pat-downs. Israeli experts say that even advanced scanners can fail to detect explosives.
Profiling may be too politically controversial and time-consuming to implement at much busier American airports. Still, Israeli experts say they believe it is inevitable that the United States will move in their direction, rather than continuing to evaluate millions of passengers as if they are potential threats.
"The profile system gives you the right, logical way to know who to check," Shif said.