Turkey warns Israel against attacking Lebanon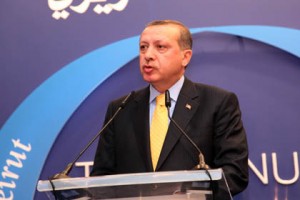 Turkish Prime Minister Recep Tayyip Erdogan said said in Beirut on Thursday that Turkey would not remain silent if Israel attacked Lebanon or Gaza.
Ties between the longtime allies remained at an all-time low.
"Does (Israel) think it can enter Lebanon with the most modern aircraft and tanks to kill women and children, and destroy schools and hospitals, and then expect us to remain silent?" Erdogan said during a conference organized by the Union of Arab Banks.
"Does it think it can use the most modern weapons, phosphorus munitions and cluster bombs to kill children in Gaza and then expect us to remain silent? He asked
"We will not be silent and we will support justice by all means available to us." He stressed
Turkey's only objective in the region is peace and stability, Erdogan said.
Earlier this week, Erdogan warned Lebanese leaders that Israel may be planning an attack from its northern border.
In a meeting with Lebanese Prime Minister Saad Hariri and President Michel Suleiman on Wednesday , Erdogan declared that Israel was endangering world peace by using disproportionate force against the Palestinians, breaching Lebanon's air space and waters and for not revealing the details of its nuclear program.
Erdogan called on the five permanent members of the United Nations Security Council to pressure Israel over its nuclear program in the same way that the international community has been pressuring Iran.
Apology
Turkey was once Israel's closest military and diplomatic ally in the Middle East but ties began to deteriorate when Ankara criticized Israel's offensive against Gaza.
Relations then deteriorate further on May 31, 2010 when Israeli naval commandos stormed a Turkish-registered protest ship, the Mavi Marmara, part of a flotilla attempting to break the Israeli blockade of the Palestinian territory.
Nine Turkish activists were killed in the operation.
Erdogan has said his country will not begin to restore relations with Israel until it apologizes for its "savage attack" on the vessel.
Last week, Erdogan confirmed Turkey had received an official apology from Israel over what the Turkish ambassador termed "humiliating" treatment by( Israeli Deputy Foreign Minister Danny) Ayalon, saying that it was "the expected and desired response."