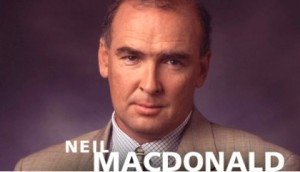 Neil MacDonald author of the Canadian Broadcast Corporation's (CBC) report on the Special Tribunal for Lebanon (STL) told a Lebanese reporter that he attempted to inform STL Prosecutor Daniel Bellemare of the report's content but the only response he received "was a threat from the UN's senior lawyer."
"Bellemare refused to speak with us even though we tried" to do so several times, MacDonald said, adding that Bellemare could have conveyed his concerns several times but opted not do so.
In another interview MacDonald said he decided to write the report given the fact that Canada was one of the donor states financing the Special Tribunal for Lebanon. In an interview with the French edition of the Lebanese daily Sada Al-Balad, Macdonald said that the Canadians wanted to know where their money was going and if the probe was making any progress at all.
The 53-year-old award-winning veteran Canadian journalist described his work as honest and professional.
"I had multiple sources for my report. Some information was double-sourced and in some cases triple sourced or confirmed by four sources. I will not [reveal] who my sources are." He said
MacDonald also said that he responded to Bellemare's claim that the CBC broadcast might endanger people's lives.
"Whose lives are in danger and from whom?" MacDonald asked Bellemare, adding that Bellemare has not responded to his questions yet.
Macdonald said that he did not interview any Hezbollah members because he was told they would not cooperate with him, adding that the position of Hezbollah regarding the STL was "already clear" through the speeches of the group's leader Sayyed Hassan Nasrallah.
Macdonald also said that he tried to interview Prime Minister Saad Hariri and PSP leader Walid Jumblatt but both reportedly refused to be interviewed
Macdonald also said that he tried more than once to contact Col. Wissam al-Hassan, head of the police Intelligence Bureau but he refused to cooperate with him.
The report identifies Hassan as a possible suspect in the Hariri assassination
When asked about the timing of the report's release, MacDonald said that he published it as soon as he completed sourcing the report properly. Macdonald reiterated that the United Nations had "threatened" him not to publish the report and to handover all U.N. documents in his possession.
Macdonald wrote last Sunday in his report that CBC had evidence from the UN inquiry strongly linking Hezbollah to the massive car bomb in 2005 that killed former Prime Minister Rafik Hariri and that investigators became suspicious of Wissam al-Hassan.