Return to civil war feared in Lebanon, report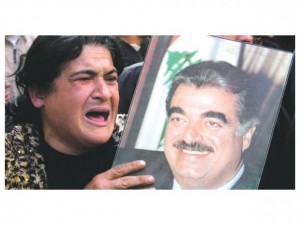 Bloodstained Lebanon could be plunged into a new round of civil war, if an international criminal tribunal, appointed by the United Nations to investigate the assassination of Lebanon's former prime minister Rafik Hariri, decides to indict members of Hezbollah for his murder.
Politicians and diplomats in the region are scrambling to avert a return to the sectarian violence that ripped Lebanon apart for 15 years from 1975 to 1990 and claimed the lives of up to 250,000 people.
Officials from Saudi Arabia and Syria are coordinating efforts to appease rival Lebanese factions and shore up a shaky power sharing agreement in Lebanon that will be threatened if Hezbollah is accused of carrying out Mr. Hariri's assassination.
There are reports Prince Abdel-Aziz bin Abdullah, son of Saudi King Abdullah, arrived in Damascus Sunday as part of the ongoing Saudi-Syrian bid to seek stability in Lebanon.
At the same time, Lebanese Prime Minister Saad Hariri, the son of Mr. Hariri, will pay an official visit to Tehran next Saturday as part of a push to improve Lebanon's relations with Syria.
On Monday, U.S. President Barack Obama, in a markedly personal statement, said he was committed to keeping Lebanon free of "terrorism."
"I am committed to doing everything I can to support Lebanon and ensure it remains free from foreign interference, terrorism, and war," Mr. Obama said in the written statement.
"Lebanon deserves peace and prosperity, and those who believe otherwise are no friend to Lebanon."
Tensions have been simmering for months as it has become increasingly apparent the United Nations Special Tribunal for Lebanon is leaning toward charging the Shiite Muslim group with killing Mr. Hariri on Valentine's Day 2005.
The massive, 1,000 kilogram, car bomb that killed Mr. Hariri as he travelled along Beirut's fashionable seaside Corniche, left a crater 10 metres deep, knocked down several buildings and killed 21 other people, in addition to killing the billionaire tycoon who had rebuilt war-shattered Beirut.
Lebanese commentators fear any indictment of Hezbollah members for the killing could lead to a situation where the group might militarily seize large parts of Lebanon, just as they did in May 2008, when they briefly grabbed control of the western part of Beirut and tried, but failed, to occupy the Druze stronghold of Mt. Lebanon.
Initially, Mr. Hariri's assassination plunged Lebanon into its worst crisis since the civil war and triggered popular street protests that literally drove Syria to withdraw troops that had occupied Lebanon for 29 years.
But now, a five-year-old international search for Mr. Hariri's assassins is threatening to push Lebanon back to the brink of self-destruction.
There are increasing fears that when the UN tribunal investigating Mr. Hariri's death issues its first indictments late this year or early in 2011, it will usher in a new era of political instability.
For months now, rumours have hinted UN investigators have uncovered evidence a Hezbollah hit-squad carried out the killing.
Hezbollah's leaders have denied the charge.
An investigation, published Sunday, by the Canadian Broadcasting Corporation claims UN investigators and a Lebanese police officer unearthed proof of Hezbollah's complicity in the killing nearly four years ago.
The CBC report said Lebanese and UN investigators used cellphone records to prove that Hezbollah officials were in frequent contact with the owners of the cellphones that were allegedly used to coordinate the bomb attack that killed Mr. Hariri.
The UN tribunal also failed to realize it had been infiltrated by Hezbollah agents and the tribunal's lax security probably led to the murder of a young Lebanese police Captain Wissam Eid of the Lebanese Internal Security Forces, who was killed by a car bomb east of Beirut, when it became known he was cooperating with the international inquiry.
The UN inquiry into Mr. Hariri's murder has carried on its work in fear for almost five years. The first UN team leader, German prosecutor Detlev Mehlis, resigned and fled Beirut in January 2006, shortly after he issued a report implicating senior Syrian officials in Mr. Hariri's murder.
Syria and Hezbollah both deny any involvement in the killing.
Syria says the UN tribunal was used by the United States to reduce Syrian influence in Lebanon, while Hezbollah, without offering proof, blames Mr. Hariri's murder on Israel.
Hezbollah leader Sayyed Hassan Nasrallah also warned all Lebanese last week not to assist UN investigators, saying to do so would be tantamount to an attack on his movement.
Mr. Nasrallah vowed to "cut off the hand" of anyone who tried to arrest a Hezbollah fighter.