Hariri heads to Iran this weekend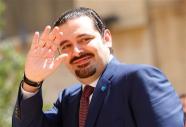 Lebanese Prime Minister Saad Hariri will head to Iran on Saturday to meet with President Mahmoud Ahmadinejad and other officials, a government official said Tuesday.
This will be his first official visit to Iran and comes a little over a month after Ahmadinejad made a similar visit to Lebanon.
Hariri, who will head a high-ranking delegation during the Tehran visit, is scheduled to meet with several senior Iranian officials in addition to Ahmadinejad
The two countries signed a several agreements during Ahmadinejad's visit to Lebanon.
The visit comes amid a tense political standoff between Hariri's camp and the Iranian and Syrian -backed militant group Hezbollah over a UN tribunal probing the 2005 assassination of Hariri's father, former Prime Minister Rafik Hariri.
The Special Tribunal for Lebanon (STL) is expected to implicate high-ranking Hezbollah officials in the murder but the party has warned against such a scenario, prompting fears of a sectarian conflict between Hariri's supporters and the Hezbollah.
Hariri was killed in a massive seaside bombing that prompted international condemnation and forced Syria to withdraw its troops from Lebanon following a 29-year presence.
Iran exited
Iranian Foreign Minister Manouchehr Mottaki said the scheduled visit of Premier Saad Hariri to Tehran next Saturday was an important step in consolidating cooperation between Iran and Lebanon.
Hariri's trip to Iran is "important and a big step forward in the path of continued cooperation between the two countries," Mottaki told reporters on Monday.