Geagea: Situation in Lebanon is stabilizing despite tension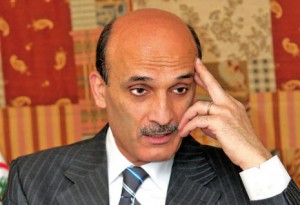 The Lebanese political situation is stabilizing despite current tension, Lebanese Forces leader Samir Geagea said on Monday in a statement issued by his office.
Geagea praised President Michel Suleiman's speech on the occasion of Lebanon's 67th Independence Day on Sunday and called the president "a statesman."
Geagea also hailed Prime Minister Saad Hariri and the Lebanese Armed Forces (LAF), adding that he is reassured by the LAF's readiness to control any instability that might occur in the country.
Geagea criticizes Franjiyeh
Geagea said that "some politicians' statements on Sunday, in which they illogically accused their political rivals, were unfortunate."
Marada Movement leader MP Suleiman Franjieh said on Sunday during a joint press conference with Free patriotic Movement leader MP Michel Aoun
"Security problems or conflict between Christian parties are very unlikely unless provoked by the presence of a particular individual," Franjieh said, referring to Lebanese Forces (LF) leader Samir Geagea.
President's speech
President Suleiman on Sunday called for the need to put forward a defense strategy that would give the Lebanese army the right to defend sovereignty.
"We have to move forward with the defense strategy to give the Lebanese army the right to defend sovereignty," Suleiman said.
"Achieving independence may sometimes seem incomplete each time it is exposed to foreign intervention," he added.
he called on Lebanese individuals and political and spiritual leaders to not allow Lebanon to be an open arena for struggles and foreign interferences.
In a televised Independence Day speech,he also said that he was committed to equality and to solving problems through dialogue.
Suleiman stressed the need for the various political parties to engage in national dialogue.
"I call on you to work together to avoid crises, and to commit to dialogue and consensus, which history has proven, we have no alternative to."
Suleiman said that to accomplish this, the Lebanese must work on achieving the following goals:
1. Maintain national unity and civil peace. Abandon tense political rhetoric and prevent sedition.
2.Work within the constitution, adhere to dialogue and resort to legitimate institutions to resolve conflicts.
3.Hold on to the Taif Accord, resume its implementation without any hesitations and agree to clarify constitutional issues that have prevented the implementation of some of the Taif Accord's articles.
4.Take responsibility in the best ways possible without obstruction or the use of intimidation and adopt the "logic of government" instead of the "logic of authority".
5.Work on making all categories and sects participate in managing public affairs.
6.Resume efforts that aim to force Israel to commit to UN Security Council Resolution 1701 and the implementation of all its articles, as well as resume efforts to maintain our right to liberate our occupied lands in all legitimate ways possible.
7.Resume discussions on a national-dialogue strategy based on the Lebanese Armed Forces (LAF) which has proven its efficiency defending Lebanon and resume the national-dialogue sessions.
8.Improve the economy, society and culture and encourage the government to double its efforts away from political conflicts in order to fulfill citizens' priorities.
9.Carry out necessary judicial, political and administrative reforms so that institutions work properly.
10.Continue to work towards expatriates' right to vote and facilitate the process in which they retrieve their nationality.
It is time, after decades of wars, to have stability and to address the people's concerns, Suleiman added.
Suleiman said Lebanon defended the issues of truth and justice and emerged as a country that embraces freedom of opinion and expression.
He stressed that responsibility "falls on all of us as Lebanese to safeguard Lebanon. We are able to do so if we have a solid willpower."
Tension in Lebanon
Tension escalated in Lebanon following reports that the Special Tribunal for Lebanon will soon issue its indictment into the 2005 assassination of Lebanon's former Prime Minister Rafik Hariri. Last July, the Hezbollah chief Sayyed Hassan Nasrallah said that the tribunal is "an Israeli project" that will indict Hezbollah members. Nasrallah accused Israel of being behind Hariri's assassination but refused to provide the evidence to STL to support his claim. Hezbollah and its March 8 allies have been calling for the abolition of STL.
Some leaders are concerned that should the court indict Hezbollah members, it could lead to a Shiite-Sunni strife, others aren't as worried and see this as a desperate attempt by Hezbollah to intimidate and scare the Lebanese and specially PM Saad Hariri .
The Pro Syrian Al Akhbar newspaper reported last week that Hezbollah has prepared a plan to take over Lebanon when STL issues its indictment for the 2005 murder of former Prime Minister Rafik Hariri.
Free Patriotic Movement leader MP Michel Aoun , (a close ally of Hezbollah ) said last Wednesday that Hezbollah might violently respond to an STL indictment that accuses Hezbollah party's members in Hariri's assassination.
Another FPM member MP Alain Aoun said on Saturday that the Lebanese must "have reservations about any decision issued by the Special Tribunal for Lebanon (STL)."
According to an investigation by the Canadian Broadcasting Corp which was published on Sunday, A Lebanese police officer and U.N. investigators unearthed extensive circumstantial evidence implicating Hezbollah movement in the assassination of former PM Rafiq Hariri,