Saudi king transfers National Guard duties to son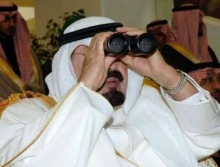 Saudi Arabia's King Abdullah stepped down Wednesday as head of the country's National Guard and transferred the influential position to his son, in an apparent sign that the elderly monarch is beginning to lessen some of his duties.
The Saudi Press Agency reported that Abdullah named Prince Mitab bin Abdullah as commander of the Guard. King Abdullah had headed the force since 1962.
The king is credited with building up the once largely ceremonial unit into a modern 260,000-strong force that is a counterweight to the army. The Guard, which was Abdullah's original power base, protects the royal family. Its dessert warriors are well-equipped and considered more effective than the regular army, which recruits largely from urban areas.
Earlier this week, the 86-year-old king also handed over his traditional supervisory duties for the annual hajj pilgrimage to his deputy prime minister because doctors advised him to rest after rupturing a disc in his back.
Abdullah appeared on Saudi television Tuesday receiving well-wishers for the Eid al-Adha holiday.
Abdullah assumed the throne in August 2005 after the death of his long-ailing half brother King Fahd. Washington Post