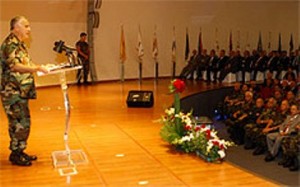 Lebanon Army chief Jean Kahwaji stressed on Thursday that political disputes are part of democratic life but should not be transformed into strife that threatens the lives of citizens."
In address to soldiers on the occasion of 67 th Lebanese Independence anniversary Kahwaji said : "Political disputes should be resolved through political means, " and added "Security is every citizens' holy right and it is your duty to preserve it."
The army commander urged the troops to stay clear from political disputes and maintain an equal distance from all sides.
"No matter how great the sacrifices the army may make, they will be much less than the price the entire country would pay should it slide into strife," he stated.
Kahwaji concluded his speech by telling the soldiers
On the 67 th Lebanese Independence anniversary I urge to stay on the lookout for the Israeli enemy, which still occupies a part of our precious land , and to strengthen the cooperation with international forces in order to preserve stability in the south, and watch out for the schemes of our enemy. I also urge you to exert the maximum possible effort to reassure the citizens about their security and stability in the country"
This error message is only visible to WordPress admins
Error: No connected account.
Please go to the Instagram Feed settings page to connect an account.