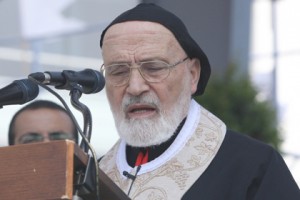 Commenting on the Hezbollah-led campaign against the Special Tribunal for Lebanon (STL) , Maronite Patriarch Boutros Nasrallah Sfeir said on Sunday: Even if the indictment may cause some repercussions in the local arena, justice is justice and must take its course."
He added: "We want to put an end to the assassinations and make sure that every criminal is punished".
During an interview with Voice of Lebanon he stressed that the state should be in control of the whole country and noted that if each group wants to control a part of the country then this will be the end of Lebanon as we know it . This is a possible reference to Hezbollah and its strongholds in Dhahiay, Bekaa and south Lebanon.
On the question of three-way power-sharing between Sunnis, Shiites and Christians rather than the current equal Muslim-Christian power sharing as stipulated in the Taef accord he said: "This issue has been brought up because of the number of Christians in the country and their participation in Lebanese life."
"If I want there to be equal power-sharing, the number of Christians must stay balanced," he said
"If three-way power-sharing is suggested, maybe shortly four-way power-sharing will be also suggested, and maybe the number of Christians will disappear." He added: Christians must remain in Lebanon and have a share in the country's posts.
Taef Accord
Speaker Nabih Berri also rejected yesterday the suggestions regarding the three-way power sharing system between Sunnis, Shiites and Christians, and stressed the importance of "comprehensively" implementing all the articles of the Taif Accord , in order to eliminate sectarianism in Lebanon.
This comes after Hezbollah leader Sayyed Hassan said in his speech last Thursday that France suggested dividing Lebanese shares between Christians, Sunnis and Shiites instead of equal Christian-Muslim shares.
Nasrallah said that "the French talked with the Iranians about the importance of reevaluating the Taef Accord, suggesting the idea of tripartite power-sharing in Lebanon."
France on Friday denied that its foreign minister Bernard Kouchner had raised the issue of amending the Taef Accord with the Lebanese officials he met during his latest visit to Beirut.