Oghassabian: Lebanon is awaiting Hezbollah's next move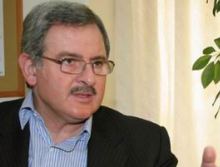 Lebanese State Minister Jean Oghassabian told MTV: Today, the whole of Lebanon is waiting and wondering when would Hezbollah act militarily and cripple the state institutions, and what March 14's possible reaction will be.
Tension escalated in Lebanon following reports that the Special Tribunal for Lebanon will soon issue its indictment into the 2005 assassination of Lebanon's former Prime Minister Rafik Hariri. Last July, Hezbollah Secretary General Sayyed Hassan Nasrallah said that the tribunal is "an Israeli project" that will indict Hezbollah members. Nasrallah accused Israel of being behind Hariri's assassination but refused to provide the evidence to STL to support his claim. Hezbollah and its March 8 allies have been calling for the abolition of STL.
Some leaders are concerned that should the court indict Hezbollah members, it could lead to a Shiite-Sunni strife, others aren't as worried and see this as a desperate intimidation by Hezbollah against truth and justice that will only lead to more damages to its image in both Lebanon and the entire region.
Al Akhbar newspaper reported last week that Hezbollah has prepared a plan to take over Lebanon when STL issues its indictment for the 2005 murder of former Prime Minister Rafik Hariri.
Nasrallah said in his speech last Thursday that Hezbollah will not allow the arrest of any of its members if the inquiry into the 2005 killing of former PM Rafik al-Hariri indicts them and added: "Any hand that will touch any of them will be cut off."
According to observers Hezbollah is no longer acting as a resistance . One observer told Ya Libnan: "Hezbollah has been acting as a criminal street gang ever since the 2006 war ended. Its weapons are no longer directed at Israel and instead are being used domestically to gain political advantage . As for Nasrallah I wish he could re-invent himself for the good of the nation, because he has become a real bore and people view him now as a gangster and not as a freedom fighter."