Jumblatt attacks Obama praises Iran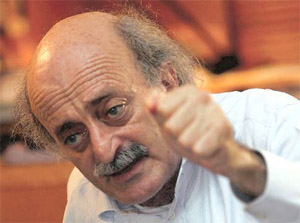 Progressive Socialist Party leader MP Walid Jumblatt attacked US president Barack Obama on Saturday and praised Iran and the recent visit to Lebanon of its president Mahmoud Ahmadinejad during an interview with Iranian Islamic Republic News Agency (IRNA).
"US President Barack Obama's policy of sowing discord among the Lebanese will fail," Jumblatt said and added: Lebanese authorities must be vigilant to counter conspiracies, Jumblatt told IRNA.
Jumblatt also praised Iran by saying: "Iran has supported Lebanon in the most difficult times" and added that Iranian President Mahmoud Ahmadinejad's visit to Lebanon in October was very important.
"President Ahmadinejad believes that supporting Lebanon is a must, as any disorder in Lebanon's political situation would have dangerous regional consequences," Jumblatt added.
Addressing his ties with Iran, he said that he has restored his old relationship with it after a long period of separation, adding that his visit to Tehran will take place at the appropriate time.
The Iranian president paid a two-day official visit to Lebanon earlier in October, meeting with top Lebanese officials and also appearing at Hezbollah rallies. His visit was praised by Hezbollah and its its allies but criticized by the March 14 majority alliance.
Ever since Jumblatt turned his back to the March 14 alliance his popularity within his constituency has substantially dropped. One analyst who wanted to remain anonymous told Ya Libnan, that he spent 3 months in the Shouf mountains and the Metn region last summer interviewing many people and was surprised to find how much unpopular was jumblatt's new position within his own constituency .
"Not even 1 in 10 that I spoke to defended Jumblatt's new stance", the analyst said adding:"Most of the people I spoke to still support March 14 alliance and are very critical of Hezbollah, specially after what it tried to do in May 2008 ".
In May 2008 the Iranian backed Hezbollah gunmen occupied the Western part of Beirut and tried but failed to occupy the Druze stronghold of Mt Lebanon.