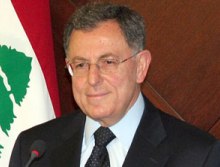 Former Lebanese Prime Minister Fouad Siniora said Friday that Hezbollah Secretary General Sayyed Hassan Nasrallah's Thursday statements during his speech last night were inaccurate.
Nasrallah accused Siniora's cabinet last night of trying to prolong the 2006 July War.
"The Lebanese people and all Arab and foreign officials knew that the government's primary goal was to end the war and lift the blockade, but Israel and the U.S. opposed it", said a statement issued by Siniora's press office.
"Nasrallah's statement are puzzling. How did Nasrallah come up with this conclusion? No one can believe such talk," Siniora said, adding that if the Hezbollah chief has documents that support his claim, it is his duty to reveal them to the public.
Other leaders criticized Nasrallah
Minister of Social Affairs Selim Sayegh – a member of the Kataeb Party – said Friday that trying to pressure and intimidate the March 14 coalition by threatening to use military force will not yield in any results.
Following his meeting with Maronite Patriarch Nasrallah Boutros Sfeir, Sayegh said that they will not be dragged into political arguments by "campaigns" accusing some Lebanese of treason.
Environment Minister Mohammad Rahhal – a member of the Future Movement – said Friday that Hezbollah Secretary General Sayyed Hassan Nasrallah's Thursday statements were to reiterate Hezbollah's call to cancel the Special Tribunal for Lebanon (STL).
"We have to wait until the tribunal issues its indictment," he said, adding, "Prime Minister Saad Hariri has assured Lebanese that he will reject the indictment if it was politicized."
Nasrallah said during a speech on Thursday that his party will "cut off the hand" of anyone who tried to arrest any of its members over the 2005 assassination of former Prime Minister Rafik Hariri.
March 14 MP Ammar Houri said he disagreed with Nasrallah's accusation that some Lebanese politicians were collaborating with Israel.
Lebanon First bloc MP Ahmad Fatfat said Friday that Hezbollah Secretary General Sayyed Hassan Nasrallah's Thursday statements accused some Lebanese of treason and included a lot of fallacies.
Fatfat told the Voice of Lebanon (VOL) radio station that the letter which Nasrallah spoke about from former US Secretary of State Henry Kissinger to late General Raymond Edde was a journalist's analysis.
"We are ready to cooperate. We want to [maintain] calm." He said
On Thursday, Nasrallah said there was a letter from General Raymond Edde to former US Secretary of State Henry Kissinger accusing him of destroying Lebanon. According to Nasrallah Kissinger replied , by admitting that the 1975 Lebanese civil war was American-made and a ploy to split the country up.
MP Nadim Gemayel told MTV in response to Nasrallah's speech : Lebanon was not victorious in the July 2006 war, but Hezbollah considered it a victory because it destroyed Lebanon
This error message is only visible to WordPress admins
Error: No connected account.
Please go to the Instagram Feed settings page to connect an account.