STL could ignite national turmoil
Shiite militant group Hezbollah has threatened to destabilize country if members are indicted in international probe.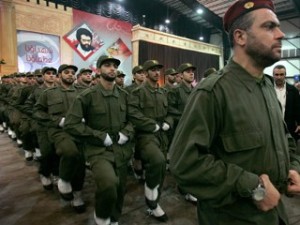 By Benjamin Peim
The growing possibility that Hezbollah will be fingered for assassinating former Lebanese Prime Minister Rafik Hariri threatens to rip open old rivalries and plunge the fiercely sectarian country into violent chaos.
But some analysts believe the threats by the Iranian-backed Hezbollah were rhetoric aimed at intimidating the international tribunal investigating the murder as well as their domestic foes.
The Special Tribunal for Lebanon, based in The Hague and backed by the United Nations, has been investigating the assassination since 2005. Hezbollah, along with Syria, have long been suspected of being behind the car-bomb that killed Hariri and 21 others in Beirut in February 2005.
"It has the potential to be explosive," Michael Humphrey, a University of Sydney sociology professor who has been researching Lebanon and the special tribunal, told The Media Line. "Hassan Nasrallah (Hezbollah's secretary general) has been pretty up front: 'Don't touch us or we'll cause chaos'."
Hezbollah, widely believed to have played a role in the killing, has never hidden its objection to the tribunal. It sees it as threatening its power, and has threatened to ignite violence if any of its members are indeed indicted.
Last week, Sheikh Naim Qassem, the militant Shiite group's second-in-command, warned that any charges against its members would be tantamount to "lighting the fuse, to igniting the wick for an explosion."
There is no set date for the release of the findings of the tribunal or of any indictments they are expected to have. But it has been reported that this will come by the end of the year.
According to the Wall Street Journal, the tribunal is considering an indictment of between two and six members of Hezbollah. This reportedly includes Imad Mughniyah, the former commander of the Shiite organization's military wing, and Mustafa Badreddine, a senior Hezbollah military commander and Mugniyah's brother-in-law. Mughniya was killed in a Damascus car bombing in February 2008.
It is speculated that Hezbollah was out to get Hariri because he had taken firm action by Lebanon to bring his country out of Syria's grasp.
Humphrey said that if members of Hezbollah were indicted, one of two scenarios would likely follow. The first would see Nasrallah unleashing Hezbollah fighters onto the streets as he did in March 2008 when the Shiite organization briefly took control of predominately Christian west Beirut in response to the Lebanese government's attempt to dismantle the Shiite group's private telecommunications system. The second would pit those indicted as rogues acting on their own accord and they would become scapegoats.
One of Lebanon's top army figures has also expressed concern that the small Middle Eastern country could experience a new round of violence when the tribunal finally hands down the indictments.
"I am worried, but I am not afraid," General Jean Kahwaji, told Lebanese daily An-Nahar over the weekend. "We have deployed sufficient troops in Beirut and have studied all other areas at risk."
"The army will be firm… in all areas and particularly Christian areas," Kahwaji was quoted as saying.
Some contend, however, that Hezbollah's inflammatory rhetoric is just meant to frighten and intimidate.
"If you believed all the saber rattling, you'd have had a war with Israel ten times over in the last three years," Nadim Shehadi, an associate fellow at Chattam House's Middle East and North Africa Program, and former director of Oxford's Centre for Lebanese Studies, told The Media Line.
Lebanese society appears divided over the tribunal, analysts say. The Western-backed March 14 coalition, led by the assassinated prime minister's son, current Prime Minister Sa'ad Hariri, supports the tribunal as a means for justice. But Hezbollah and its allies see it as tool to combat their political influence and have blasted it as not credible.
"You have a split," said Shehadi. "It all boils down in the end to faith in the international system. Hezbollah doesn't have faith in it as a form of justice."
The United States sees Lebanon as integral to Washington's battle for influence with Iran and Syria and has stepped up its backing for the tribunal. The Obama administration just pledged $10 million to the tribunal's budget, bringing its total for the court to $30 million.
France has reiterated its support as well. On a recent visit to Lebanon, French Foreign Minister Bernard Kouchner said the tribunal was "born out of an international decision and with the approval of the international community." The medialine