Kouchner: Situation in region is dangerous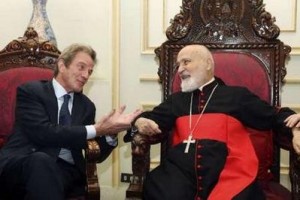 Following his meeting with Maronite Patriarch Nasrallah Sfeir , French Foreign Minister Bernard Kouchner described in a statement the situation in the region as dangerous .
Kouchner questioned on Saturday the fuss over the Special Tribunal for Lebanon (STL) , stressing that it was "born out of an international decision and with the approval of the international community."
Kouchner who arrived on Friday met with Lebanese president Michel Suleiman upon arrival and had had dinner with PM Saad Hariri but did not meet Speaker Nabih Berri. Kouchner did meet with Lebanese FM Ali al-Shami, who is closely associated with Berri and they discussed the situation in the region.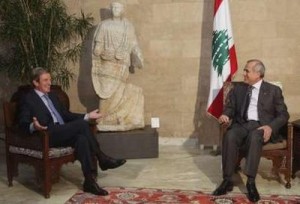 According to local reports Kouchner is expected will hold a press conference later on Saturday to discuss the situation in Lebanon.
Kouchner also met the following Lebanese leaders at the French embassy on Saturday to discuss the situation in Lebanon and the region :
– Progressive Socialist Party leader, MP Walid Jumblat
– Former Lebanese president ,  Phalange Party leader Amin Gemayel
– Former Prime Minister Fouad Siniora.
– Hezbollah International Relations Officer Ammar Moussawi
Following the Gemayel -Kouchner meeting the Phalange party issued a statement in which it quoted  its leader  as saying:
"Lebanese need to feel the support of their friends when there is a dangerous situation in the country".
In a statement issued by Hezbollah, Moussawi was quoted as saying following his meeting with Kouchner: "Hezbollah was the party that was negatively affected the most by the assassination , especially in terms of STL's repercussions, while Israel is the party that benefited the most from the crime."
He also was quoted as saying : "US wants to use the Special Tribunal for Lebanon against Hezbollah."
Moussawi called on France to have an independent policy toward Lebanon, according to a statement issued by Hezbollah.
Last Thursday, Hezbollah Secretary General Sayyed Hassan Nasrallah called on all Lebanese to boycott the STL and to end all cooperation with its investigators.
Appeal for calm
A top French diplomat on Saturday reportedly appealed for calm in Lebanon amid a widening crisis over the STL's indictment in the assassination of former Prime Minister Rafik Hariri.
"We call on all political actors in Lebanon to remain calm, serene, and responsible, and that is the purpose" of Kouchner's visit, the diplomat told AFP.