Lebanon PM warns of 'disaster' in Mid-East
The Prime Minister of Lebanon Saad Hariri told the BBC the absence of peace was aiding anti-Western forces.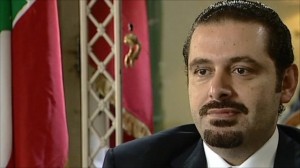 Lebanese PM Saad Hariri has said the Middle East is "heading towards disaster" if peace cannot be reached between Israel and the Arab world.
Mr Hariri told the BBC's Middle East editor Jeremy Bowen that the current situation was allowing extremism to flourish.
He said the whole world was paying the price for Israel's policies on the Palestinians.
The lack of peace was also aiding anti-Western forces including Iran, he said.
Mr Hariri, who is currently on a visit to the UK, said that Iran had significant influence in the Middle East region but that the real threat to stability was from failing to achieve peace between Israel and the Arab world.
He said hundreds of millions of Arabs and Muslims were daily watching television footage of Palestinian homes being destroyed by Israeli bulldozers, and that such actions were "not just inflaming the region but … affecting the whole world".
"You're paying the price in London, you're paying the price in Europe, you're paying the price in the United States, you're paying the price everywhere," he said, and asked what the international community was doing to aid the peace process.
The prime minister also said he would continue to support the UN-backed investigation into the 2005 assassination of his father, former Lebanese Prime Minister Rafiq Hariri.
The tribunal, taking place at the Hague, is expected to issue indictments by the end of the year and many believe those accused could include prominent members of Hezbollah, the most powerful military and political force in Lebanon.
On Tuesday, the movement told BBC Arabic that indicting any of its members would be "equivalent to lighting the fuse and is dangerous for Lebanon".
Hezbollah's leader, Hassan Nasrallah, has denied the movement was involved in the assassination, and has called on all Lebanese to boycott the investigation. BBC