MP Sakr urges Hezbollah to verify its stance over al Akhbar report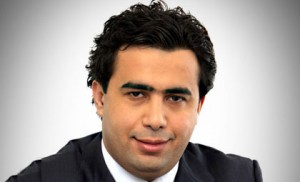 March 14 MP Okab Sakr urged Hezbollah on Monday to clarify its stance over an article published in Al-Akhbar newspaper earlier in the day in which it claimed that Hezbollah has prepared a plan to take over Lebanon when the Special Tribunal for Lebanon (STL) issues its indictment for the 2005 murder of former Prime Minister Rafik Hariri.
In a statement issued on Monday, Sakr said that if Hezbollah does not clarify its stance, "it would mean that the report is either comes from the party itself or it is meant to benefit it."
About al Akhbar report
A report published Monday by the pro-Syrian al-Akhbar newspaper said that prior to Hezbollah chief Sayyed Hassan Nasrallah's Oct. 28 speech a " the opposition group ( Hezbollah) was carrying out an electronic, field simulation for the assumed zero hour."
The simulation was reportedly based on a scenario of the issuance of the International Tribunal indictment accusing Hezbollah of former PM Rafik Hariri's assassination.
Hours before the issuance of the indictment, Hezbollah reportedly plans on deploying security and political forces in large numbers , without bloodshed and without targeting citizens or residential areas, the report said.
The heavy deployment of security forces which is supposed to be completed within 2 hours is reportedly "designed to hold a security and military grip on large areas of Lebanon," Al-Akhbar wrote.
According to al Akhbar the ( Hezbollah ) plan targets, major cities ( including the capital, suburbs, Kesrouan and North Lebanon towns) and several centers ( seaports, airports and border crossings) in Lebanon in addition to locating and arresting political, military and security officials. The plan also includes locating and arresting the officials that Syria had issued arrest warrants against "in order to curtail their movement and get hold of major cities in Lebanon."