Hariri: Official Lebanon still supports STL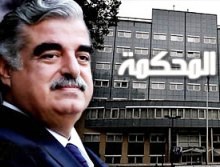 "Official Lebanon still supports the Special Tribunal for Lebanon (STL)," Prime Minister Saad Hariri said in London, MTV reported on Monday
Hariri who is in the UK on an official visit also told reporters that Wednesday's cabinet session will not experience any disputes over the "false witnesses issue" because there are many available options that could lead to an agreement.
In his speech last Thursday Hezbollah chief Sayyed Hassan Nasrallah called on "every official and every citizen to boycott the work of U.N. investigators" probing the murder of former Lebanese PM Rafik Hariri.
Tension escalated in Lebanon following reports that the Special Tribunal for Lebanon will soon issue its indictment into the 2005 assassination of Lebanon's former Prime Minister Rafik Hariri. Last July, Hezbollah Secretary General Sayyed Hassan Nasrallah said that the tribunal is "an Israeli project" that will indict Hezbollah members. Nasrallah accused Israel of being behind Hariri's assassination but refused to provide the evidence to STL to support his claim. Hezbollah and its March 8 allies have been calling for the abolition of STL.
Some leaders are concerned that should the court indict Hezbollah members, it could lead to a Shiite-Sunni strife.
The "false witnesses" issue tops the agenda of the cabinet session that will be held this Wednesday. March 8 politicians has called on the cabinet to refer the issue to the Judicial but March 14 politicians believe that the regular judiciary should handle the issue.
March 14 MP Atef Majdalani said Monday that he rejects the March 8 coalition's attempt to equate the issue of "false witnesses" with the 2005 assassination of former Prime Minister Rafik Hariri.
He told ANB news that STL must issue its indictment before the issue of witnesses who gave unreliable testimonies to the international investigation can be addressed, adding that the furor raised thus far over the issue is "political par excellence."