Fiji, Lebanon formalize diplomatic ties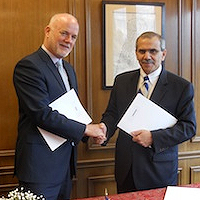 The Governments of Fiji and Lebanon formalized their diplomatic relations in a ceremony in New York recently.
The formal relationship was affected by a joint communiqué signed by Ambassador Nawaf Salam of Lebanon and Ambassador Peter Thomson of Fiji.
Fiji's Ministry of Information confirmed that the communiqué expresses the desire of the two countries in promoting the spirit of mutual understanding, developing friendship ties and diplomatic cooperation with each other.
According to Fiji's Ministry of Information , "the formalization of relations also recognizes that the ties of friendship between Lebanon and Fiji will be based on the principles of the United Nations Charter and international law, particularly international peace and security, juridical equality among states, respect of national sovereignty, independence, respect for international treaties, territorial integrity and non interference in the internal affairs of states."
About Fiji
Fiji is a country of more than 300 islands situated in Southern Pacific Ocean. Some of the bigger islands are Viti Levu (the capital city Suva located on this Island) and Vanua Levu. The smaller but significant islands are Kadavu, Gau, Ovalau, Taveuni and many more.
Like Lebanon, Fiji is a well known tourist attraction.