U.N. worried about Lebanon's security, report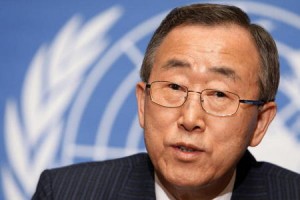 Lebanon is in a tense state in part because of Hezbollah's weapons and Israel's failure to meet its international obligations, the U.N. secretary-general said.
"Lebanon is currently experiencing a domestic climate of uncertainty and fragility," wrote U.S. Secretary-General Ban Ki-moon in his latest assessment of the situation in Lebanon.
Ban said more work was needed to implement U.N. Security Council resolutions that call on the disarmament of non-state military forces and the integrity of Lebanon's borders.
On Hezbollah, the secretary-general said the presence of non-Lebanese militias and the "worrisome pattern" of armed violence are posing a lingering threat to stability in the country.
He called on Hezbollah, now a member of Lebanon's Cabinet, to completely disarm and fully transform into a political party. Its "significant military arsenal creates an atmosphere of intimidation and poses a key challenge to the safety of Lebanese civilians and to the government's monopoly on the legitimate use of force," the secretary-general wrote.
Israel must honor its international obligations and put an end to its surveillance flights in Lebanon's airspace, something Beirut complains is a daily occurrence, Ban wrote. UPI