UAE opens a naval base to by-pass Hormuz
The United Arab Emirates has opened a naval base on its east coast as part of efforts to secure its ability to export oil in the event Iran closes the strategic Strait of Hormuz, local media said on Thursday.
Almost all oil exports from OPEC's fourth-largest producer now go through Gulf waters and the narrow strait which separates the UAE from Iran before reaching the Arabian Sea and the Indian Ocean.
The opening ceremony for the new base, in the emirate of Fujairah on the Arabian Sea, was held on Wednesday.
The base will "provide a quick response to natural and man-made disasters that may occur at sea, in addition to… ensuring safe and quick passage for its oil exports," the official WAM news agency said.
The emirate of Abu Dhabi, which holds more than 90 percent of UAE crude reserves, is reportedly building a huge oil export facility and an oil storage terminal in Fujairah, and an oil pipeline to it.
Having "a naval base in Fujairah would give the UAE more capabilities to protect its economic zone and its strategic facility, the port down there, which will be a major point of export for oil and gas," Riad Kahwaji, founder of the Institute for Near East and Gulf Military Analysis in Dubai, told AFP.
Kahwaji said that two pipelines from Abu Dhabi to Fujairah — one for oil and another for gas — have been announced.
"There's an oil pipeline from Abu Dhabi to Fujairah port, and there's the Dolphin project, which is a gas pipeline between Qatar, Abu Dhabi, then Fujairah and then on to Oman," he said.
Iran has repeatedly threatened to block navigation through the Strait of Hormuz, through which about 60 percent of the world's oil supplies pass, if it is ever attacked by the United States or Israel.
Many Western states believe Iran's nuclear programme may be a covert bid to make a nuclear bomb, a charge Tehran denies. The United States and Israel have not ruled out the possibility of a strike against Iranian nuclear facilities.
"We've heard over the news for the past few years the threats directly and indirectly from Iran of closing the Strait of Hormuz if it was attacked," Kahwaji said.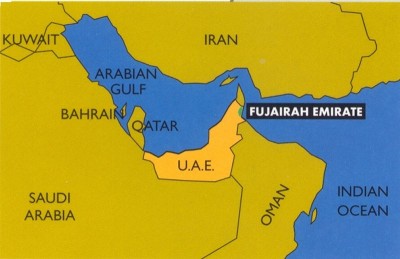 "Countries like Qatar, the UAE, Kuwait and Bahrain and Iraq… are really blocked in if the Strait of Hormuz is closed," he said.
In another development, Iranian President Mahmoud Ahmadinejad told Saudi King Abdullah in a telephone call that the aim of his controversial visit to Lebanon last week was to promote its unity, his office said on Thursday.
The Wednesday evening conversation between the two leaders — their second in eight days — came as the regional arch-rivals have been competing for influence in both Lebanon and Iraq.
Praising King Abdullah's own visit to Lebanon in July, Ahmadinejad said: "We too have now traveled to Lebanon so the efforts to create unity and solidarity are complete.
"In this trip, I talked to all of our Lebanese brothers about unity and they welcomed it," his office's website quoted him as telling the Saudi monarch.
Iran and Saudi Arabia support rival political alliances in Lebanon that sit uneasily together in a government of national unity.
Saudi Arabia and Western governments back the majority bloc in parliament of Prime Minister Saad Hariri.
Iran and its regional ally Syria support the minority bloc led by Shiite militant group Hezbollah, Lebanon's most powerful political and military force, which fought a devastating 2006 war with Israel.
Ahmadinejad meanwhile, told his Venezuelan counterpart on Wednesday they would defeat their common foes, the latest defiant salvo against Western countries that he says are failing in their attempts to isolate Iran.
At the end of a two-day visit, Venezuelan President Hugo Chavez condemned military threats against Iran which the United States and Israel have said they could strike to prevent it getting a nuclear bomb.
"I should use the opportunity to condemn those military threats that are being made against Iran," Chavez told a news conference in which the two leaders called each other "brother".
"We know that they will never be able to restrict the Islamic revolution in whatever way … We will always stand together, we will not only resist we will also stand victorious beside one another."
The countries have more than their dislike of the United States in common; they are also OPEC members whose valuable oil exports allow them a certain diplomatic muscle despite being viewed with suspicion in the West.
Meanwhile, German Foreign Minister Guido Westerwelle said Thursday that two Germans arrested in Iran who reportedly interviewed the son of a woman sentenced to death by stoning were "doing well under the circumstances".
Westerwelle told reporters that the Germans, who have been detained since October 10, met with a representative of their embassy in Tehran, which he said was still working to secure their release.
"Following very intensive and very difficult discussions, an official at the German embassy in Tehran received consular access today to the two German citizens who are in custody in Tabriz," Westerwelle said.
"Our fellow citizens are doing well under the circumstances. We are still doing everything we can to ensure that the two can return safe and sound to Germany as soon as possible."
In yet another development, an Iranian-American released after two and a half years in a Tehran jail left Iran on Thursday en route to the United States, a friend told Reuters.
Reza Taghavi was held in May 2008 for giving $200 to Tondar, (Thunder), a group which aims to overthrow the Islamic Republic and restore the Iranian monarchy which was ousted in the 1979 revolution, according to its website.
"Reza Taghavi left Iran with his wife and lawyer…He will take a connecting flight from London to go to America," the friend, Ali Masayebi, told Reuters.
Taghavi, a 71-year-old retired businessman, said after his release on Saturday he had been asked to hand over the money without knowing it was going to an outlawed militant group. Arab Times