There is no substitute for STL, Feltman says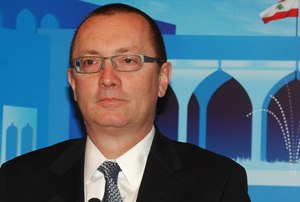 "There is no substitute for the Special Tribunal for Lebanon (STL), US Assistant Secretary of State for Near Eastern Affairs Jeffrey Feltman said in an interview with Al-Hayat newspaper published on Friday.
"One cannot choose between instability and justice," Feltman stressed.
"The absence of justice leads to instability. The choice between instability and the Court is not a right choice. It is Hezbollah's and others' choice. They are trying to impose it on the Lebanese," Feltman said.
Feltman who was in Beirut last Sunday met with President Michel Suleiman to deliver a message from US President Barack Obama reaffirming US commitment to a "stable, secure, independent and sovereign Lebanon."
"We are in contact with Lebanese officials to defuse the current tension in the country," Feltman said, adding that attempts to destabilize Lebanon are not the best way to protect its sovereignty.
Feltman confirmed that he did not visit Damascus following his recent trip to Lebanon. He said the reason he did not visit Damascus was because he was on a specific mission in which he, along with the new U.S. Ambassador Maura Connell, was scheduled to convey a message to President Michel Suleiman from President Obama.
"We hope Lebanon continues to fund the STL, but there are other ways to fund the court if Lebanon's share was blocked ," Feltman said.
This was in reference to the withdrawal of March 14 alliance MPs from the September 16 evening session of the Parliamentary Budget and Finance Commission to prevent it from reaching a quorum when March 8 coalition MPs called for voting on a 2010 state budget clause pertaining to Lebanon's funding of the STL.
"Hezbollah will use its position in government to try to block Lebanon's funding for the U.N. court" the group's spokesman said on September 30.
In a related development STL is holding" International Media Forum" at its headquarters near the Dutch city of The Hague. The purpose of the forum is to explain the court procedures and model of operation of the STL judicial mechanism.
Tension escalated in Lebanon following reports that the Special Tribunal for Lebanon will soon issue its indictment into the 2005 assassination of Lebanon's former Prime Minister Rafik Hariri. Last July, Hezbollah Secretary General Sayyed Hassan Nasrallah said that the tribunal is "an Israeli project" that will indict Hezbollah members. Nasrallah accused Israel of being behind Hariri's assassination but refused to provide the evidence to STL to support his claim. Hezbollah and its March 8 allies have been calling for the abolition of STL
There are concerns that should the court indict Hezbollah members, it could lead to a Shiite-Sunni strife. Now Lebanon