March 14: Aoun is trying to conceal his political frustration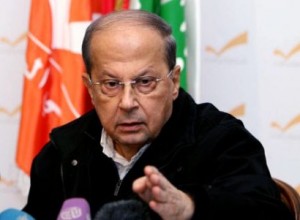 Change and Reform bloc leader MP Michel Aoun "is trying conceal his political frustration by claiming that he wants change and reform, " according to a statement issued by March 14 General Secretariat following its weekly meeting on Wednesday
This comes after Aoun said on Tuesday that there will be "change and reform if a clash was to break out in Lebanon ."
March 14 called on Aoun to waive his bank secrecy.
Aoun also said yesterday that change and reform is more important than the Special Tribunal for Lebanon (STL).
Finance Ministry
In a reference to Aoun's statement that the Finance Ministry looks like "Ali Baba's cave," and people are working there illegally, Finance Minister Rayya al-Hassan said on Wednesday that some parties "are obstructing the approval of budgets for the purpose of 'change and reform' to serve a certain political aim," according to a statement issued by Hassan's office.
She said that some parties are criticizing the Finance Ministry to serve their political motives.