Berri, Assad discussed Lebanon crisis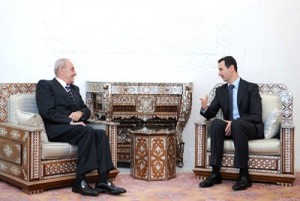 President Bashar al-Assad on Wednesday reviewed with Speaker of the Lebanese Parliament Nabih Berri the efforts exerted to find solutions to problems threatening Lebanon's security and stability, SANA reported.
SANA added that the talks also dealt with the Syrian-Lebanese relations and the latest developments in the Lebanese, regional and Arab arenas, particularly the situation in Iraq and the occupied Palestinian territories.
Berri according to SANA expressed his appreciation over Syria's efforts to preserve Lebanon's stability and its keenness on establishing best relations with it.
Berri's TV station NBN quoted the Speaker as saying that resistance, stability and salvation can be maintained by adhering to Syrian-Saudi understanding.
He added: "The Lebanese people's unity and cooperation along with the help of friendly countries must allow Lebanon to resolve any issue, Berri also said."