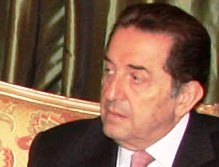 Labor Minister Boutros Harb, a key member of the March 14 alliance, told Future News on Tuesday that the Special Tribunal for Lebanon (STL) – probing the 2005 murder of ex-Premier Rafik Hariri – has nothing to do with the Lebanese government and the decisions it makes.
"The political struggle in Lebanon does not affect the STL," Harb said, adding, "It would affect the relations between Lebanon and the UN."
He stated that March 14 will reject the STL indictment if it is not based on hard evidence.
Hezbollah's leader, Sayyed Hassan Nasrallah, said last July that he expects members of Hezbollah to be indicted in connection with Hariri's assassination. Nasrallah restated his opposition to the STL in August, when he argued in a widely televised press conference that Israel could have killed Hariri, presenting what he alleged was Israeli surveillance footage, intercepted by Hezbollah, of the assassination site. Nasrallah intended this information to cast further doubt on the tribunal's investigation and potentially derail its findings. On the other hand Nasrallah refused to provide the evidence to STL to support his claim.
Hezbollah and its March 8 allies have been calling for the abolition of STL
There are concerns that should the court indict Hezbollah members, it could lead to a Shiite-Sunni strife.
STL forum
In a related development 16 editors-in-chief, news directors and editors of Lebanon's leading media outlets left Beirut airport around 4:00 pm Tuesday to take part in an International Media Forum on the STL to be held in The Hague Oct. 20-22, according to local reports.
This comes after the U.N. tribunal carried out a controlled explosion Tuesday at a French military base as part of its investigation into the assassination of former Lebanese Prime Minister Rafik Hariri.
The Special Tribunal for Lebanon said in a statement that the explosion at the Captieux military base in southwest France was watched by a team of international experts who will carry out forensic tests.
According to local reports preparations are underway for the launch of Court work which is expected after issuance of the indictment in the assassination of former PM Rafik Hariri.