March 14 refuses to refer false witnesses file to the Judicial Council, report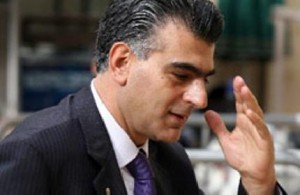 Minister of Social Affairs, Salim Sayegh told Al Manar TV on Sunday that March 14 minsters refuse referral of the false witnesses file to the Judicial Council, since the file is currently empty and there is no legal case for consideration.
He told  Hezbollah's Al-Manar TV: " This issue did not become a legal case for Lebanese judiciary, because currently the file is empty … before the Lebanese judiciary receives all the documents on this issue , the referral will be useless "
Sayegh pointed to the necessity of understanding the legalities of this issue and the need to wait for the files before taking any action. He also stressed there" is no point in voting on this issue because all this will do at this time is reveal to the outside world that we are a divided nation, specially since in the ministerial statement we agreed to support the Special tribunal for Lebanon"".
Justice Minister Ibrahim Najjar submitted his report on false witnesses during the cabinet meeting last Tuesday and stressed that his report is "legal and not political and that its content contains answers to the questions raised during the August 18 session,"
"After the detailed presentation by the justice minister, a number of ministers participated in a general discussion about false witnesses and how they should be prosecuted," Information Minister Tarek Mitri told the media following the cabinet meeting .
An-Nahar newspaper quoted sources who attended the March meeting last Tuesday as saying that the Opposition insists that the Justice Council, handles the false witnesses' case.
Tension escalated in Lebanon following reports that the Special Tribunal for Lebanon will soon issue its indictment into the 2005 assassination of Lebanon's former Prime Minister Rafik Hariri. Last July, Hezbollah Secretary General Sayyed Hassan Nasrallah said that the tribunal is "an Israeli project" that will indict Hezbollah members. Nasrallah accused Israel of being behind Hariri's assassination but refused to provide the evidence to STL to support his claim.
There are concerns that should the court indict Hezbollah members, it could lead to a Shiite-Sunni strife.