Feltman arrived in Beirut | Update|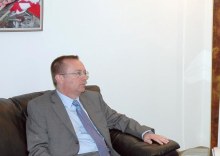 Assistant Secretary of State for Near Eastern Affairs Jeffrey Feltman arrived in Beirut from Riyadh on Sunday and was received at Rafik Hariri International Airport by US Ambassador to Lebanon Maura Connelly, National News Agency (NNA) reported.
Feltman later met with Progressive Socialist Party leader MP Walid Jumblatt and other officials, NNA added.
Feltman was in Riyadh and Cairo where he held a series of meetings with Saudi and Egyptian officials over the developments in Lebanon, and the Palestinian-Israeli peace efforts according to As Safir newspaper
Last Tuesday Feltman told Al-Arabiya TV that "Hezbollah is trying to politicize the Special Tribunal for Lebanon (STL).
The UN Security Council voted for establishing the tribunal and it is up to the council to cancel it, should it decide to, Feltman said, adding that the US excludes this possibility.
"We do not know what the STL's indictment is and we should not know its content," the former US ambassador to Lebanon added.
Tension escalated in Lebanon following reports that the Special Tribunal for Lebanon will soon issue its indictment into the 2005 assassination of Lebanon's former Prime Minister Rafik Hariri. Last July, Hezbollah Secretary General Sayyed Hassan Nasrallah said that the tribunal is "an Israeli project" that will indict Hezbollah members. Nasrallah accused Israel of being behind Hariri's assassination but refused to provide the evidence to STL to support his claim.
There are concerns that should the court indict Hezbollah members, it could lead to clashes similar to those of the May 7, 2008 events .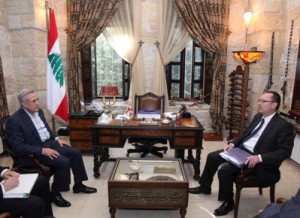 Update : After meeting with Jumblatt Feltman met with president Michel Suleiman. After meeting with Suleiman he headed to Beirut Airport . At the airport he told reporters:
"President Obama stressed that the tribunal should be allowed to complete its work without interference and that the perpetrators must be brought to justice."
Feltman said the US supports the Tribunal but no one knows the content of the indictment or when the indictment will be issued and stressed that this matter should be left in the hands of the independent judicial authorities (STL) .
In response to a question about president Mahmoud Ahmadinejad's visit, Feltman said" This is a bilateral issue between Lebanon and Iran. I leave it to the Lebanese to interpret what this visit means." He added that Americans treasure Lebanon's pluralism and dynamic democracy, voicing hope that "Ahmadinejad would learn something from Lebanon to take back to Iran."
Asked to comment on the tension in Lebanon he said : "We're trying to work on lowering tensions in Lebanon."
Asked about the purpose of his short stop in Lebanon he said:
I came to deliver a presidential message from US President Barak Obama reaffirming US commitment to a "stable, secure, independent and sovereign Lebanon.
"A strong, sovereign and stable Lebanon is in the vital interests of the Lebanese people, the region, the US and the international community," Feltman said, adding that "we are concerned by any act undermining sovereignty and stability."
Feltman also said that there was no connection between his special visit to Lebanon and the talks he just held in Riyadh, saying that his Saudi trip was a routine bilateral visit in which he discussed a number of issues, including "shared support for Lebanon."