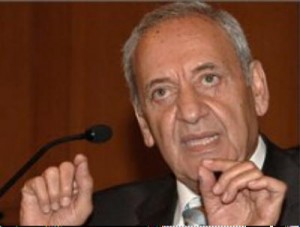 Lebanon speaker Nabih Berri ruled out a sedition in Lebanon during an interview with Quds Al Arabi newspaper "specially because of the the existence of 362 000 marriages between the Shiites and Sunnis."
Berri however warned that Israel sees the sedition as the opportunity of a lifetime.
Berri blamed the tension in Lebanon to the lack of unity amongst the Lebanese
Berri added that Israel is counting on the indictment by the Special Tribunal for Lebanon to cause a strife but stressed that as long as the Syrian-Saudi relations are ok Lebanon will be ok
Tension escalated in Lebanon following reports that the Special Tribunal for Lebanon will soon issue its indictment into the 2005 assassination of Lebanon's former Prime Minister Rafik Hariri. Last July, Hezbollah Secretary General Sayyed Hassan Nasrallah said that the tribunal is "an Israeli project" that will indict Hezbollah members. Nasrallah accused Israel of being behind Hariri's assassination but refused to provide the evidence to STL to support his claim.
There are concerns that should the court indict Hezbollah members, it could lead to a Shiite-Sunni strife. Many Sunnis reportedly think that if Hezbollah really killed Hariri, it would be considered as the revenge for the killing of Imam Hussein Bin Ali, the grandson of prophet Mohammad . Imam Hussein was killed and beheaded in the Battle of Karbala, Iraq in 680 AD