Hariri's murder: Ahmadinejad defends Hezbollah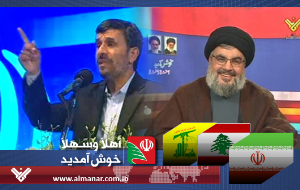 Iranian President Mahmoud Ahmadinejad on Wednesday slammed as "fabricated" the reports that point to Hezbollah's involvement in the assassination of Lebanon's former Prime Minister Rafik Hariri.
Deceitful hands have killed a dear friend (Rafik Hariri) who cared about his country, Ahmadinejad said when addressing tens of thousands of Lebanese at the Al-Raya Stadium in Beirut's southern suburb of Dahiyeh.
"We are now witnessing how news reports are fabricated and international justice organizations are exploited to implicate other friends (Hezbollah) so as to sow strife," said the Iranian president, referring to recent reports that the UN-backed court probing the 2005 assassination of Hariri intended to indict "rogue " members of Hezbollah.
Ahmadinejad's controversial visit came at a delicate time when tensions between Hezbollah and the March 14 parliament majority alliance headed by Prime Minister Saad Hariri have been running high over the indictment to be announced by the Special Tribunal for Lebanon STL) .
With regards to the September 11, 2001 terrorist attack he said: "From here, I announce that the formation of an independent and neutral team to examine the facts and discover the truth of the September 11 events is the demand of all the peoples of the region and the world."
Ahmadinejad is due to visit south Lebanon on Thursday and will deliver a speech in the town of Bint Jbeil, a few kilometers from the border with Israel. Xinhua