Will Ahmadinejad use or support Lebanon?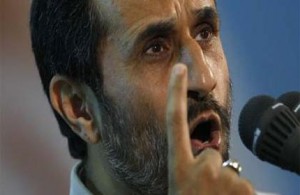 Free Patriotic Movement leader MP Michel Aoun , a close ally of Hezbollah told the Iranian Islamic Republic News Agency (IRNA) on Sunday that
Iranian President Mahmoud Ahmadinejad's upcoming visit to Lebanon will have positive results.
Ahmadinejad is expected to arrive in Lebanon on Wednesday for a two day visit.
During his trip his first to Lebanon since he became president in 2005 , will meet with his counterpart Michel Suleiman as well as Prime Minister Saad Hariri and parliament speaker Nabih Berri.
He will also attend a rally in the Lebanese capital organized on his behalf by the Iranian backed Shiite militant group Hezbollah, considered a proxy of Iran. Hezbollah chief Sayyed Hassan Nasrallah, is expected to attend the rally, though it is not known whether he will do so in person or via video link. He rarely appeared in public since the 2006 war with Israel.
Use or support Lebanon?
The most controversial part of the visit will be on Thursday, when the Iranian leader is scheduled to tour several villages along Lebanon's southern border with Israel.
Members of the March 14 parliament majority alliance in Lebanon have described the border visit as a provocation specially since Ahmadinjad during his last visit to Damascus said Iran's borders start in south Lebanon.
The timing of the visit is also critical. Tension has grown steadily in Lebanon after unconfirmed reports said that the Special Tribunal for Lebanon (STL) will soon issue its indictment into the 2005 assassination of former Prime Minister Rafik Hariri. Last July, Nasrallah said that the tribunal is "an Israeli project" that will indict Hezbollah members. Nasrallah accused Israel of being behind Hariri's assassination but refused to provide the evidence to STL. Some March 8 coalition politicians have been calling for the abolition of the tribunal… Free Patriotic Movement leader MP Michel Aoun called for civil disobedience and former head of General Security Jamil as-Sayyed publicly attacked the government.
The tensions are raising fears of sectarian violence and the collapse of the national unity government, in which Hezbollah has two ministers.
The visit also comes at a time of high tension between Tehran and Tel Aviv over Iran's controversial nuclear program.
Fadia Kiwan, head of the political science department at Beirut's Saint Joseph University said the issue is whether Ahmadinjad is here to show support for Lebanon or to use Lebanon.
"At stake is whether Ahmadinejad is coming to show support for Lebanon or whether he plans to use Lebanese territory as a springboard for his own interests," she said
"The Lebanese, and Hezbollah in particular, must fully take advantage of Iran's support but must also realize the limits of this support, that it's a double edged-sword," Kiwan added.
In a speech last Saturday , Nasrallah called for a massive turnout to greet the Ahmadinejad and denied rumors that Ahmadinejad planned to throw a symbolic stone across the border at Israel.
"If President Ahmadinejad asks my opinion, I would tell him: 'A stone? You are capable of throwing more than a stone'," Nasrallah said
Ahmadinejad will be accompanied on his trip by Foreign Minister Manouchehr Mottaki and a delegation of businessmen from the private sector.
A number of agreements covering the energy and water sectors will be signed during the visit.
The Lebanese president will be hosting Ahmadinejad for lunch while the speaker of parliament is hosting him for dinner. Prime Minister Hariri will also be hosting him for lunch on Thursday.
Aoun said he expects the most important matters that will be discussed during the visit to be defensive issues.