Ban: STL is independent, won't be deterred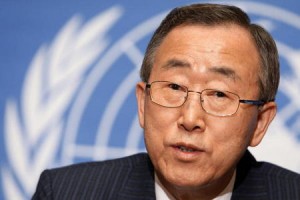 UNITED NATIONS- Secretary-General Ban Ki-moon vowed on Wednesday that a U.N. tribunal investigating the murder of a Lebanese statesman would press ahead despite fears of violence and urged regional players not to interfere.
Diplomats said the U.N. chief appeared to be aiming his comments primarily at Lebanon's Shi'ite Muslim guerrilla group Hezbollah, which has denounced the U.N. inquiry, and at neighboring Syria, which has been increasingly critical of it.
The tribunal, set up three years ago by the U.N. Security Council to try suspects in the 2005 assassination of former Prime Minister Rafik al-Hariri, is likely to issue indictments by the end of this year, diplomats say.
Iranian-backed Hezbollah has said it expects to be targeted by the court — a prospect many Lebanese fear could plunge the country into fresh conflict. The group denies killing Hariri, a Sunni Muslim, and has branded the tribunal an Israeli project.
In an unusually strong statement, Ban said the Netherlands-based court would not be deterred.
"I want to be perfectly clear. This tribunal is independent, with a clear mandate from the Security Council to uncover the truth and end impunity," he told reporters.
"I urge all Lebanese and regional parties not to prejudge the outcome, nor to interfere in the tribunal's work. … It will go on."
One Western diplomat said it was a "safe assumption" that Ban had in mind not just Hezbollah but Syria, which some Lebanese politicians have accused of being behind Hariri's death in a massive suicide truck bombing in Beirut.
Syria has denied involvement but was forced to end its three-decade military presence in Lebanon following an international outcry.
POLITICAL WINDS
Fears of violence have intensified since rumors of the impending indictments began to circulate. Pro-Syrian politician Suleiman Franjieh warned last month of sectarian war in Lebanon if the tribunal indicted Hezbollah members.
It was the Lebanese government that originally requested the establishment of the U.N. court and agreed to pay almost half its costs. But political winds have shifted in Beirut.
Current Prime Minister Saad al-Hariri, Rafik's son, has mended relations with Damascus. In a turnaround, he has said he was wrong to accuse Syria of killing his father and that accusations against Damascus had been politically motivated.
But Lebanon's fragile national unity government has been shaken by disputes over the U.N. investigation with rhetoric that has taken increasingly sectarian undertones.
Answering questions from reporters, Ban rejected suggestions the United Nations could be held responsible for any flare-up of violence resulting from the court's actions.
"Peace and security and political stability in Lebanon should be different from this justice process," he said.
Syrian President Bashar al-Assad confirmed on Wednesday that a Syrian judge issued arrest warrants for 33 people over false testimony to investigators and said the warrants were not politically motivated.
"They're a purely judicial issue," he told Turkey's TRT television.
Among those named were German prosecutor Detlev Mehlis, who led the early stages of the U.N. investigation.
Syrian Foreign Minister Walid al-Moualem met Ban last week in New York during the annual U.N. General Assembly.
Ban declined to discuss their talks, but The Wall Street Journal last week quoted Moualem as saying in an interview that U.N. inquiries in Lebanon had been politicized and should be replaced by a purely Lebanese investigation.
Hezbollah and its allies have also questioned the credibility of the investigation, accusing it of relying on false testimony and telephone records that Israeli spies could have manipulated.
By Patrick Worsnip, Reuters