Moratinos: Spain, EU eager to find the truth behind Hariri's murder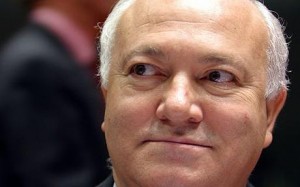 During an interview with al-Hayat daily on Saturday Spanish Foreign Minister Miguel Angel Moratinos stressed that Spain and the European Union are eager to uncover the truth behind the assassination of Lebanon's former Prime Minister Rafik Hariri
Moratinos stressed his country's support for the Special Tribunal for Lebanon (STL) , adding that since it has already been formed, then it should be pursued to the very end.
Moratinos also opposed attempts to postpone the indictment and the meddling of any European nation in the tribunal's functioning, saying: "We grant the tribunal complete cooperation and autonomy."
Moratinos said that the current phase is "sensitive and difficult and I think that the Lebanese will be able to look forward to the future when matters are cleared up."
ISF denies
In a related development ( Internal Security Forces) ISF denied that any of its officers had made any interview with the Al-Akhbar newspaper over the killing of Hariri.
"We are convinced Hezbollah killed Lebanon's former PM Rafik Hariri and the international investigation (committee) has evidence to prove that," al-Akhbar newspaper on Friday quoted an "authoritative security source" close to Premier Saad Hariri as saying.
"Given that the communiqué of the ISF Directorate General avoided to deny the occurrence of a meeting between the article's writer and one of the directorate's most prominent officers, and given that the same communiqué avoided to deny the information mentioned in the article, Al-Akhbar is concerned with stressing that publishing the content of the interview between the article's writer and one of ISF's most prominent officers had occurred according to the traditional work mechanism," the daily said, adding that "it understands the embarrassment of the officer concerned."
Al-Akhbar stressed that "what was published is a part of the information revealed by the officer to the article's writer," adding that the journalist's supposed visit to the officer's office was both "professional" and "personal."