Syrian envoy urges dialogue away from the media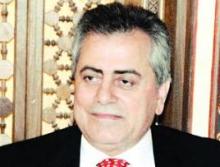 Syrian Ambassador to Lebanon Ali Abdul Karim Ali urged the Lebanese political parties during an interview with LBC television on Thursday to engage in dialogue and address disputes away from the media.
He said that Prime Minister Saad Hariri recently voiced positive remarks, adding that there should be a clear plan with Lebanese officials, including Hariri "to pursue a positive track."
Ali was referring to Hariri's interview with As-Sharq al-Awsat earlier in September in which he admitted that the March 14 alliance had unfairly rushed to accuse Syria of assassinating his father and that false witnesses had misled the investigation into former PM Rafik Hariri's assassination.
Tension escalated in Lebanon after reports said that the Special Tribunal for Lebanon (STL) will soon issue its indictment into the 2005 assassination of former Prime Minister Rafik Hariri. Last July, Hezbollah Secretary General Sayyed Hassan Nasrallah said that the tribunal is "an Israeli project" that will indict Hezbollah members. Nasrallah accused Israel of being behind Hariri's assassination but refused to provide the evidence to STL. Some March 8 coalition politicians have been calling for the abolition of the tribunal, while Free Patriotic Movement leader MP Michel Aoun and former head of General Security Jamil as-Sayyed publicly attacked the government.
Saudi envoy
Similarly Saudi Arabia's Ambassador to Lebanon Ali Awad Asiri urged the Lebanese political parties to sit together and develop a plan to deal with the International Tribunal indictment.
"Lebanese are able to sit with each other and prepare a plan on how to deal with the outcome of the Court's decision regardless whether it is negative or positive," Asiri told LBC television.