Phalange condemns behavior of Hezbollah and allies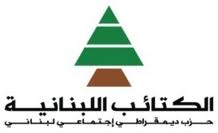 The Phalange Party condemned on Monday the behavior of Hezbollah and its allies accusing them of thwarting efforts to instill calm with the aim of creating internal strife in Lebanon.
In a statement after its weekly meeting the party said: "The politburo noticed that the efforts exercised by some Lebanese leaders and fraternal and friendly states to thwart the deterioration of the situation in Lebanon have not yet yielded any serious results."
The statement stressed that the government should remain as the main protector of constitutional institutions and international resolutions, especially the Special Tribunal for Lebanon and the United Nations Interim Force in Lebanon.
The statement called on the state to take the precautionary security and military measures to thwart all who are trying to create strife or unrest.
"The government and parliament should dedicate a respectable budget to the army to fulfill its needs ," the statement said.
"The systematic campaign against the STL is beginning to harm Lebanese security without actually affecting the tribunal's functioning … but some want to make the tribunal a problem," it stated.
"The murderers, who are still unknown and who now fear the punishment, should not have committed the assassinations in the first place," the statement concluded.
Tension escalated in Lebanon after reports said that the STL will soon issue its indictment into the 2005 assassination of former Prime Minister Rafik Hariri. last July, Hezbollah Secretary General Sayyed Hassan Nasrallah said that the tribunal is "an Israeli project" that will indict Hezbollah members. Nasrallah accused Israel of being behind Hariri's assassination but refused to provide the evidence to STL.